Art house on the Uchcom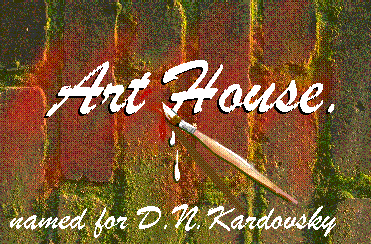 The Art House named after Kardovsky is located 132 km away from Moscow in Pereslavl-Zalessky.
It was the estate of Kardovsky D.N., Member of the Academy of Arts of Russia. In 1954 his daughter handed over her father's house to The Russian Art Union.
The Russian Art Union set up the Art House there. Many sculptars, painters, pencil artists and art-critics work there regularly. There theyhold republican and world symposia and plein-airs.
At present The Art House consists of an inn, an eating-house, fifteen studios, a model studio. The inn accomodates 45 people in the comfortable rooms, with meals three times a day in the cating-house. The floor space of a studio is 50 sq.metres and of the model studion in 100 sq.metres. Artists can make use of necessary tools and equipment and any materials for work to beforehand order.
The Art House organizes excursions to Golden Ring towns - the oldest Russian cities - and provides the comfortable bus for excursions and art jourheys.
---
ART GALLERY
---
Questions and suggestions should go to Natasha Sirotkina