Constructive Web site on Uchcom
la langue est sans doute un obstacle considerable a realisation d'une society planetaire. Il est deja dificile de a'entendre en utilsant la meme langue. Un pere et une fils ne se comprennent pas, bien que parlant la meme langage, car l'experience qu'ils ont des monts n'est pas la meme et que les automatismes conceptuels, les jugments de valeur, lies aux mots vagues comme liberte, egalite, justice, honneur, droit, devoir, discipline, etc, son forcement differents.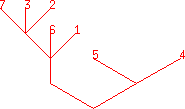 The webtool to allow artists, scientists and students to make explicit their mental models of network arts.
Texts:
The use of repertory grids in collaborative creative activity
Turtle on the Web
Constructive Web site for psychological education
Psychological education - Logo style and Logo media
Using implicit knowledge in Logo microworlds
---
Last modified - 14 Feb 1998
E-mail: pat@uchcom.botik.ru