Welcome to my Home Page!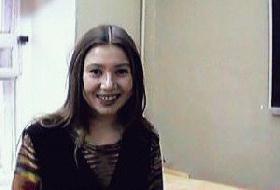 My Home Page in Japanese
Hello, Friends!
I'm Tonya Baibabaeva. I'm 20 years old. My birthday is on 28th of July. I'm from Russia. I live in town that's called Pereslavl-Zalessky. It is situated about 120 km from Moscow. You see we have an Universi ty in our town. And it is happened, I study at this University.
My major is mathematics. Except that I study English and Japanese. Our Japanese group consists of five students. We like to learn Japanese very much.
I've graduated from a art school. I learned a history of arts, I like painting also. I like to read the books to widen my outlook.