English Language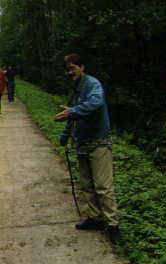 Hie eveybody! This is Alexander, the English teacher of the camp for summer 1995. We have a pretty variegated program this session. If we put it in the nutshell it will look in the following way:
We study idioms & modern useful words & expressions which will develop our speech communication skills and enrich our vocabulary.
We read short homourous stories which develop our comprehension abilities & "guessing" skills.
We learn some tongue twisters to work on our pronunciation.
In terms of training our memory we learn songs, & some texts which are used as the integral part of a play or any other kind of show (e.g.TV program).
We play the famous SON OF MAD LIBS(the most popular party game) & while playing it we learn the names of the English parts of speech. 6.We also develop our imagination, imaginative thinking & memory all together by guessing various riddles & crosswords.
Speaking in general we have a lot of fun, & laugh so much you would not have imagined it.