Russian-Japanese Telecommunication Project
"Rainbow Bridge in Summer-95"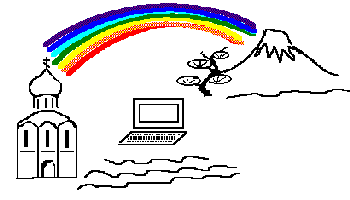 ---
This is the third year of the project "Rainbow Bridge in Summer" which links the students of the International Computer Camp-School (Pereslavl-Zalessky) and the students of Shimizu International Junior High School (Japan). This project was made possible on the Japanese side by the generous support of Apicnet. In Russia, the project was backed by the Programs Systems Institute (Pereslavl-Zalessky).
The project was started in the summer of 1993. It consisted of several programs aimed at exchanging information on language, culture, history, education system, and way of life of both countries. In other programs the students created drawings, stories, and poems which were then shared with their foreign counterparts.
The special ecological focus of the summer 1994 session of the ICCC determined the subject matter of that year's telecommmunication cooperation. The participants discussed the various ecological problems that their respective countries are faced with. Among these problems were water and air pollution, acid rain, the state of the forests, recycling, etc.
The Ecological Session of the ICCC in the summer of 1995 continues some of the programs from the preceeding years. We also initiated some programs which are new for this year:
Creation of computer calendar of summer flowers in Russia and Japan, ecological posters etc.

Acquaintance with Japanese and Russian national ornaments. Decorating japanese kokeshi, kimono, russian spoons, matryoshka etc.

Studying history of Japanese-Russian relations. Creation of illustrations for story of the ships Diana and Heda.

Our TANABATA wishes

ASCII text illustrations of russian folk-tale "Golden Fish"

Stories written by participants of the project

Read it!

Participants of the project drew their faces
Please send your comments to: Lena Zaitseva (lena@camp.botik.yaroslavl.su)