---

Web-Server po Integral'noj Joge
Satprem 1970 "SHri Aurobindo, ili Puteshestvie Soznanija",
Glava 12
---
Web-Server for Integral Yoga
Satprem 1970 "Sri Aurobindo, or The Journey of Consciousness",
Chapter 12
---
GLAVA 12
SVERHSOZNATEL'NOE
Zagadka
Itak, trojnoe izmenenie soznanija otmechaet nashe zemnoe puteshestvie: otkrytie psihicheskogo suschestva, ili immanentnogo Duha, otkrytie Nirvany, ili transtsendentnogo Duha, i otkrytie tsentral'nogo suschestva, ili kosmicheskogo Duha. Verojatno, istinnoe znachenie troitsy Otets-Syn-Svjatoj Duh v hristianskoj traditsii otvechaet etim aspektam soznanija. Odnako nasha tsel' sostoit ne v tom, chtoby sravnivat' odin opyt s drugim, a v tom, chtoby samim udostoverit'sja v nih, vyjavit' ih dlja sebja: Filosofii i religii sporjat o prioritete togo ili inogo aspekta Boga, i razlichnye Joginy, Rishi i Svjatye otdajut predpochtenie toj ili inoj filosofii ili religii. Nasha zadacha -- ne obsuzhdat' ih, no realizovat' i stat' imi vsemi, ne sledovat' kakomu-to odnomu aspektu, iskljuchaja vse ostal'nye, no ob`javit' Boga vo vseh ego aspektah i za ih predelami -- v etom smysl integral'noj jogi. I vse zhe my mozhem somnevat'sja: ne suschestvuet li chego-nibud' za predelami etogo trojnogo otkrytija -- potomu chto, kakimi by velikimi ni kazalis' nam ego sostavnye chasti v moment ih perezhivanija, ni odno iz nih ne daet nam togo integral'nogo zavershenija, k kotoromu my stremimsja, t.e. ne daet, esli my schitaem, chto v etom svershenii dolzhny uchastvovat' kak zemlja, tak i individuum. Otkrytie psihicheskogo suschestva, naprimer, -- velikoe postizhenie: my nachinaem osoznavat' svoju bozhestvennost'; no eto otkrytie ogranicheno ramkami individuuma, ono ne vyhodit za predely sten lichnosti, kotorye derzhat nas v zatochenii. Otkrytie tsentral'nogo suschestva -- eto realizatsija ogromnoj shiroty i ohvata -- mir stanovitsja nashim sobstvennym suschestvom -- no pri etom my terjaem chuvstvo individual'nosti, potomu chto eto uzhe ne mes'e Djupon sidit v tsentre kosmicheskogo soznanija, naslazhdajas' vidom, -- mes'e Djupona bol'she net. Otkrytie Transtsendentnogo -- velichajshaja realizatsija, no zdes' my terjaem i individual'nost', i mir -- ne ostaetsja nichego, krome Togo, chto vechno nahoditsja vne chelovecheskoj igry. Teoreticheski my mozhem govorit', chto Otets, Syn i Svjatoj Duh ediny, -- na slovah my mozhem govorit' vse chto ugodno, -- no na praktike, kogda my realizuem eti izmenenija soznanija na opyte, oni okazyvajutsja otrezannymi drug ot druga shirokoj propast'ju. Do teh por, poka my ne najdem prakticheskij put' preodolenija etogo trojnogo razryva mezhdu panteistom, individualistom i monistom, nevozmozhno nikakoe zavershenie ni dlja individuuma, ni dlja mira. Nedostatochno najti nash individual'nyj tsentr i prenebrech' polnotoj mira ili obresti polnotu mira i poterjat' individual'nost', ili tem bolee obresti vysshij Pokoj, kogda rastvorjajutsja i mir, i individual'nost' -- "JA ne hochu byt' saharom, -- vosklitsal velikij Ramakrishna, -- ja hochu est' sahar!" V etom haotichnom i izmuchennom mire, gde my dolzhny dejstvovat', vstrechat' javlenija i fakty litsom k litsu, prohodit' cherez nekoe stanovlenie, nam prezhde vsego neobhodimo byt'. Bez etogo "byt'" nashe stanovlenie rasseetsja v gospodstvujuschem v mire haose. Bez stanovlenija, odnako, nashe bytie rastvoritsja v blazhennom Nule . A v otsutstvie nashej individual'nosti kakoe znachenie imejut dlja nas, chto nam vse eti chudesnye realizatsii, esli nas uzhe net? Takovo protivorechie, kotoroe my dolzhny razreshit' -- ne v filosofskih terminah, a v terminah zhizni i sily dejstvija. Predstavljaetsja, chto takogo ob`edinjajuschego puti do sih por libo ne suschestvovalo, libo zhe on byl neizvesten. Poetomu vse religii i duhovnye uchenija pomestili transtsendentnogo Ottsa na vershinu ierarhii, vne vsego etogo zloschastnogo haosa, i pobuzhdajut nas iskat' polnotu, k kotoroj my stremimsja, vne etogo mira. Odnako intuitsija govorit nam, chto esli my, suschestva, nadelennye telom, stremimsja k polnote, to ona dolzhna byt' dostizhima. Polnota dolzhna byt' dostizhima v tele; v protivnom sluchae my ne stremilis' by k nej. Togo, chto my nazyvaem fantaziej, ne suschestvuet -- eto real'nye sobytija, vremja kotoryh esche ne prishlo, istiny, ozhidajuschie svoego chasa. ZHjul' Vern javljaetsja tomu svoego roda podtverzhdeniem. Net li esche chego-nibud', chto nuzhno otkryt', chetvertogo izmerenija soznanija, kotoroe izmenit vse?
V zheleznoj kletke posredi zala suda SHri Aurobindo dostig kontsa puti. Odno za drugim postig on Immanentnoe, Transtsendentnoe i Vseobschee Kosmicheskoe -- [l'Universel] -- ved' v kletke ne ostavalos' nichego, krome tela: v soznanii svoem on mog byt' povsjudu po svoej vole. No pri vsem etom vspominal li on o molodom cheloveke po imeni Aurobindo, v kotorom, nachinaja esche s Kembridzha, a zatem i v techenie vseh posledujuschih let proishodila nepreryvnaja akkumuljatsija soznanija, kotoryj postig eto Beskonechnoe Soznanie? V to zhe vremja on videl, chto telo ego ostaetsja takim zhe, kak i tela millionov drugih: podchinjaetsja tem zhe zakonam Prirody, ispytyvaet golod i zhazhdu, vremenami boleet, kak i vse drugie tela, i medlenno, no verno, priblizhaetsja k svoemu razlozheniju. Soznanie -- bespredel'no, sijajusche, bessmertno, no vnizu vse ostaetsja po-prezhnemu. I poskol'ku on videl veschi takimi, kakie oni est', poskol'ku ego ne mogli uzhe vvesti v zabluzhdenie vse te maski, kotorye navjazyvajutsja zakonami morali i prilichija, to on takzhe, navernoe, videl v podsoznatel'nom, pod beskonechnym Soznaniem prezhnij zhivotnyj oskal, pod sijajuschim oreolom vse tu zhe netronutuju grjaz' i zapuschenie fizicheskogo -- vnizu vse idet, kak obychno, nichego ne menjaetsja. Navernoe, on takzhe videl po druguju storonu kletki vse svoi drugie "ja", kotorye prodolzhali sudit' i nenavidet' -- prodolzhali stradat'. Kto spasen? Nichto ne spaseno, poka ne spaseno vse! I chto sdelalo to beskonechnoe Soznanie dlja vseh etih ljudej? Ono vidit, ono znaet, no chto ono mozhet sdelat'? Razve on ne pokinul Barodu dlja togo, chtoby dejstvovat', delat' chto-to konkretnoe? On videl vse v svoem bespredel'nom soznanii, perezhival bezgranichnuju radost' naverhu, oschuschal, kak chistaja [nude] radost' smeetsja na vershinah Absoljuta , no chto mogla sdelat' eta radost', esli vnizu vse bylo sovsem ne tak, kak naverhu? Vnizu vse idet po-prezhnemu -- stradanija, smert'. On dazhe ne slushal sudej i ne otvechal na voprosy, ot chego zavisela ego zhizn'; on slyshal lish' Golos, kotoryj povtorjal: JA vedu tebja -- ne bojsja. Zajmis' svoej Rabotoj, radi kotoroj JA privel tebja v tjur'mu. I SHri Aurobindo po-prezhnemu sidel v svoej kletke, zakryv glaza, gljadja vnutr'. Net li naverhu takoj polnoty, kotoraja mogla by byt' polnotoj i vnizu? Neuzheli put' zavershitsja etim zolotym bessiliem? Kakov smysl vsego etogo puteshestvija?
V silu kakih-to neponjatnyh prichin dusha nishodit v etu Materiju ili, vernee, stanovitsja etoj Materiej. V techenie mnogih vekov ona razvivaetsja, rastet i obretaet individual'nost' posredstvom svoih chuvstv, svoego razuma, svoego opyta. Vse v bol'shej i bol'shej stepeni pripominaet ona svoju utrachennuju ili skrytuju pod poverhnost'ju bozhestvennost', svoe soznanie, pogruzhennoe v sobstvennuju silu. V kontse kontsov ona uznaet sebja i vozvraschaetsja k svoemu Istochniku -- ili transtsendentnomu i nirvanicheskomu, ili zhe kosmicheskomu -- v zavisimosti ot togo, kakovy ee udel i predraspolozhennost'. Takim obrazom, vsja eta istorija -- eto vsego lish' dlitel'nyj i trudnyj perehod ot Bozhestvennomu k Bozhestvennomu cherez temnoe chistilische Materii? No dlja chego eto chistilische, zachem eta Materija? Dlja chego my kogda-to pogruzilis' v nee, neuzheli zhe lish' dlja togo, chtoby snova vyjti iz nee? Inye govorjat, chto kosmicheskoe ili nirvanicheskoe blazhenstvo v konechnom itoge stoit vseh trudnostej na puti k nemu. Mozhet byt', no v to zhe vremja Zemlja stradaet. My mozhem prebyvat' v sijanii vysshego blazhenstva, no zdes', vnizu, razrastajutsja i protsvetajut muchenija, bolezni i smert', a nashe kosmicheskoe soznanie i tem bolee Nirvana ni na jotu ne menjajut hoda zemnoj evoljutsii. Inye skazhut, chto kazhdyj dolzhen delat' to zhe samoe, probuzhdat'sja i vyhodit' iz sostojanija zabluzhdenija -- horosho, no dlja chego togda byla nuzhna eta Zemlja, esli ej nuzhno prosto probuzhdat'sja i vyhodit' iz sostojanija zabluzhdenija Zemli? *)
*) Tak v podlinnike (prim.per.).
-My govorim o "grehopadenii", ob Adame i Eve, o kakom-to nelepom pervorodnom grehe, kotoryj razrushil to, chto Bog sozdal sovershennym vnachale. No ved' vse est' Bog! Zmej-iskusitel', esli on suschestvoval -- eto byl Bog; Satana, ego Velikolepie i ego Dela -- eto tozhe Bog. Net nichego krome Nego! Togda neuzheli On byl nastol'ko glup, chtoby past' ne vedaja togo, nastol'ko bespomoschen, chtoby stradat' ne zhelaja togo, ili stol' zhestok, chtoby igrat' v zabluzhdenie tol'ko radi zabavy -- chtoby nasladit'sja tem, kak on vyjdet iz nego? I togda neuzheli zhe Zemlja -- eto tol'ko oshibka? Ved' esli eta Zemlja ne obladaet smyslom dlja Zemli, esli stradanija mira ne nesut v sebe smysla dlja mira, esli eto tol'ko nashe vremennoe mestonahozhdenie, gde my dolzhny ochistit'sja i iskupit' kakuju-to nelepuju oshibku, to togda nikto i nichto -- ni vysshee blazhenstvo, ni ekstaz v kontse puti -- nikogda ne smogut opravdat' etot bespoleznyj promezhutochnyj epizod. Bogu ne nuzhno bylo vhodit' v Materiju tol'ko dlja togo, chtoby vyjti iz nee; Bogu ne nuzhny byli ni Smert', ni Stradanie, ni Nevezhestvo, esli eto Stradanie, eta Smert' i eto Nevezhestvo ne nesut v sebe svoj sobstvennyj smysl, esli eta zemlja i eto telo -- ne prosto orudija ochischenija ili sredstva chtoby ujti, no v konechnom itoge -- eto mesto nekoj Tajny, kotoraja vse preobrazuet.
Ne stremljus' ja k tvoemu vechnomu Dnju,
Kak i ne osteregalsja Nochi tvoej vechnoj...
Byt' rabom tvoim na zemle, tsar', -- eto bol'she,
CHem vse velikolepie svobod na nebesah...
Dlja menja tvoi nebesa slishkom daleki ot stradajuschih ljudej.
Nesovershenna radost', ne razdelennaja vsemi.

(I climb not to thy everlasting Day,
Even as I have shunned thy eternal Night...
Thy servitudes on earth are greater, king,
Than all the glorius liberties of heaven...
Too far thy heavens for me from suffering men.
Imperfect is the joy not shared by all.)
Teper', dalee, esli my pristal'nee vzgljanem na etu zagadku, na tsentr, vokrug kotorogo razvorachivaetsja vsja misterija, -- na dushu -- to budem vynuzhdeny priznat', chto ee, dushu, ne nuzhno "spasat'", kak prinjato govorit'. Ona vechno svobodna, chista, prebyvaja naveki spasennoj v svoem sijanii. Kogda my vhodim v dushu s shiroko raskrytymi glazami, my vidim, chto ona -- bozhestvenna, polna neobyknovennogo sveta i ne zatronuta vsej toj grjaz'ju, kotoraja nabrosana poverh nee. No zato nuzhno spasat' zemlju, potomu chto ona nahoditsja pod gnetom; nuzhno spasat' zhizn', potomu chto ona umiraet. Gde to semja, kotoroe prineset Osvobozhdenie? Gde ta Sila, kotoraja spaset? V chem sostoit podlinnoe spasenie mira? Posledovateli duhovnyh uchenij pravy, zhelaja, chtoby my vkusili vysshej letuchesti dushi, no pravy i materialisty, kotorye vzbivajut Materiju, stremjas' vyrvat' iz etoj uplotnennosti chudesa. No ni te, ni drugie ne obladajut Tajnoj. CHudesa pervyh ne imejut tela, a u chudes vtoryh net dushi.
Telo, da, imenno telo, kotoroe ponachalu kazalos' lish' temnym i kosnym orudiem osvobozhdenija Duha, javljaetsja, kak eto ni paradoksal'no, mestom nepoznannoj polnoty i tsel'nosti Duha: To, chto kazhetsja Orudijami [Instrumentals], javljaetsja kljuchom k Tajne [a secret], bez kotorogo dazhe sami Osnovy [Fundamentals] ne smogli by raskryt' vsej svoej misterii [mystery] . "Zajmis' svoej Rabotoj", -- skazal Golos. Rabota eta sostojala ne v tom, chtoby naslazhdat'sja kosmicheskim blazhenstvom, a v tom, chtoby najti zdes', v etom tele i voobsche dlja zemli, novyj put', kotoryj ob`edinit v edinoj forme soznanija svobodu Transtsendentnogo, zhivuju bespredel'nost' kosmicheskogo i radost' individual'noj dushi na sovershennoj zemle i v bolee istinnoj zhizni. Ibo podlinnoe izmenenie soznanija, -- govorit Mat', -- eto to, chto izmenit fizicheskie uslovija mira i sozdast iz nego novoe tvorenie.
Uslovija otkrytija
Esli my hotim "izmenit' fizicheskie uslovija mira", t.e. tak nazyvaemye "zakony prirody", kotorym podchinena nasha zhizn' i ves' mir, i esli my hotim provesti eto izmenenie v zhizn' s pomosch'ju sily soznanija, to nam nuzhno sobljusti dva uslovija. Vo-pervyh, my dolzhny rabotat' v nashem individual'nom tele, ne stremjas' nikuda iz nego ujti, potomu chto eto telo javljaetsja kak raz tem mestom, gde soznanie stykuetsja s Materiej; i, vo-vtoryh, my dolzhny prilozhit' usilija dlja togo, chtoby otkryt' tot printsip soznanija, kotoryj budet sposoben transformirovat' Materiju siloj svoej energii. Do sih por ni odna iz form, ni odin iz planov soznanija, izvestnyh chelovechestvu, ne obladali siloj, sposobnoj vypolnit' eto izmenenie -- ni mental'noe soznanie, ni vital'noe, ni soznanie fizicheskoe. I eto ochevidno. V samom dele, nekotorym individuumam s pomosch'ju trenirovki i distsipliny udavalos' naperekor zakonam prirody preodolevat' silu tjazhesti, holod, golod, bolezni i t.d. No, vo-pervyh, eto individual'nye izmenenija, kotorye nevozmozhno peredat' drugim, a, vo-vtoryh, oni na samom dele ne izmenjajut Materiju: zakony, upravljajuschie telom, ostajutsja po suti svoej temi zhe samymi; nekotorye osobye effekty, kazhuschiesja sverh`estestvennymi po svoemu vneshnemu projavleniju, lish' nakladyvajutsja na prirodu v techenie bolee ili menee prodolzhitel'nogo vremeni. My mozhem zdes' privesti primer odnogo jogina-revoljutsionera, sotrudnika SHri Aurobindo, kotorogo odnazhdy ukusila beshenaja sobaka. Ispol'zuja silu svoego soznanija, on nemedlenno sozdal prepjatstvie dejstviju virusa i prodolzhal zhit' ne dumaja ob etom (zametim v skobkah, chto esli by etot jogin nahodilsja v sovershennom sostojanii soznanija, to ego ne smogla by ukusit' nikakaja sobaka). No odnazhdy, vo vremja osobo burnogo politicheskogo mitinga, on vyshel iz sebja i s gnevom obrushilsja na odnogo iz vystupavshih. CHerez neskol'ko chasov on skonchalsja v strashnyh mukah beshenstva [vodobojazni]. Sila ego zakljuchalas' tol'ko v kontrole s pomosch'ju soznanija. Kak tol'ko soznanie ego spotknulos', vse poshlo po-prezhnemu, potomu chto zakony tela ne byli izmeneny, ih zastavili lish' na vremja zamolchat'. Poetomu to izmenenie, kotoroe imejut v vidu SHri Aurobindo i Mat', predpolagaet ne dostizhenie bolee ili menee dlitel'nyh "sverh`estestvennyh" sil i umenie sderzhivat' s ih pomosch'ju vozdejstvie prirodnyh uslovij i estestvennyh sil, no izmenenie samoj prirody cheloveka i uslovij ego fizicheskogo suschestvovanija; t.e. ne kontrol', a nastojaschaja transformatsija. Krome togo, esli my hotim, chtoby eta realizatsija ohvatila vsju zemlju. to etot novyj printsip suschestvovanija, kotoryj SHri Aurobindo nazyvaet supramental'nym, dolzhen byt' utverzhden vo vseh nas polnost'ju i okonchatel'no - snachala v neskol'kih individuumah, a zatem putem rasprostranenija, radiatsii vo vseh, kto gotov prinjat' ego. Vse eto vpolne podobno tomu, kak stali estestvennymi i okonchatel'no utverdilis' na zemle printsip razuma i printsip zhizni. Inymi slovami, printsip etot predpolagaet sozdanie na zemle bozhestvennogo sverhchelovechestva, kotoroe uzhe ne budet podchinjat'sja zakonam nevezhestva, stradanija i razlozhenija.
Predprijatie eto mozhet pokazat'sja nam grandioznym i nesbytochnym, no tol'ko potomu, chto videnie nashe ogranicheno ramkami neskol'kih desjatiletij. Na samom dele eto nahodilos' by v polnom sootvetstvii s evoljutsionnym protsessom. Esli my priznaem, chto vsja zemnaja evoljutsija -- eto evoljutsija Duha v formah, a vse chelovecheskie pererozhdenija -- eto rost dushi i Duha v cheloveke, to u nas navernjaka vozniknut somnenija: vsegda li Duh budet udovletvoren ogranichennost'ju cheloveka; bolee togo, voznikaet takoj vopros: kakoj smysl Emu, etomu Duhu, vozvraschat'sja v kontse puteshestvija k Svoim sverhzemnym Velikolepiju i Radosti, kotorye u Nego ne bylo nikakoj neobhodimosti pokidat' -- ved', v kontse kontsov, Svet suschestvuet tam vechno, on uzhe tam i vsegda tam, neizmennyj. Takoe dostizhenie vrjad li budet pobedoj dlja Boga! Materija -- vot gde dolzhny byt' vozvedeny nebesa. Mozhet byt', On hochet ispytat' te zhe Velikolepie i Radost' v uslovijah, kotorye kazhutsja protivopolozhnymi Ego uslovijam, -- v zhizni, osazhdaemoj smert'ju, nevezhestvom i t'moj, v mnogolikom raznoobrazii mira, a ne pustom i chistom edinstve? V takom sluchae i zhizn', i Materija obreli by smysl -- eto bylo by uzhe ne chistilische, ne bessoderzhatel'nyj perehod v potustoronnee, a laboratorija, v kotoroj shag za shagom, sozdav snachala materiju, rastenija i zhivotnyh, a zatem sozdavaja vse bolee i bolee soznatel'nye chelovecheskie suschestva, Duh tvorit sverhcheloveka, boga: Dusha ne zavershila vsego, chto ej prednaznacheno, razvivshis' do urovnja cheloveka; ona dolzhna esche razvit' v etoj chelovecheskoj prirode ego vysshie vozmozhnosti. Ponjatno, chto dusha, obitajuschaja v kannibale, v netronutom primitive, v apashe [huligane, bandite] Parizha ili v amerikanskom gangstere, esche ne ischerpala neobhodimosti rozhdenija v chelovecheskom oblike, ne projavila vse svoi vozmozhnosti, vsego, chto est' v chelovecheskoj prirode i ne vyrabotala polnost'ju oschuschenija Sat-CHit-Anandy vo vsemirnom [universal] CHeloveke; to zhe samoe mozhno skazat' o dushe, obitajuschej v energichnom evropejtse, zanjatym sovremennym proizvodstvom s ego dinamikoj i ohvachennym vital'nymi naslazhdenijami, ili v aziatskom krest'janine, ogrubevshem v nevezhestve i rutine domashnej i hozjajstvennoj zhizni. U nas dazhe est' osnovanija usomnit'sja, venchajut li vershinu duha v cheloveke Platon ili SHankara, to est' javljajutsja li oni zaversheniem ego rastsveta. Nasha sklonnost' schitat' ih predelom razvitija ob`jasnjaetsja tem, chto oni i im podobnye kazhutsja nam vysochajshej tochkoj, kotoroj mozhet dostich' razum cheloveka, no, mozhet byt', eto lish' zabluzhdenie, istochnik kotorogo -- nashi nyneshnie sposobnosti. ... U dushi bylo predchelovecheskoe proshloe, ona imeet sverhchelovecheskoe buduschee .
SHri Aurobindo -- ne teoretik, a praktik evoljutsii. Vse, chto oni govoril ili pisal ob evoljutsii, prishlo k nemu kak real'nyj opyt. My pustilis' vo vse eti rassuzhdenija lish' dlja togo, chtoby prolit' svet na ego poiski i prodvizhenija, proishodivshie v aliporskoj tjur'me. On okazalsja litsom k litsu s faktom, chto kosmicheskaja blazhennaja bespredel'nost' -- eto ne to mesto, gde mozhet byt' prodelana kakaja-nibud' rabota, chto nuzhno pokorno vernut'sja vniz, v telo, i iskat' tam. No my mozhem postavit' takoj vopros: esli "transformatsija" dolzhna svershat'sja siloj soznanija, a ne posredstvom kakih-to vneshnih mehanizmov, to kakoe zhe soznanie mozhet byt' vyshe kosmicheskogo? Razve ne javljaetsja ono vershinoj lestnitsy i, sledovatel'no, vysshim predelom sily? Etot vopros ochen' vazhen, esli my hotim ponjat', chto soboj predstavljaet prakticheskij protsess otkrytija, i v kontse kontsov prodelat' ego. V kachestve otveta privedem dva soobrazhenija. Vo-pervyh, nedostatochno dostich' vysshih sil; dolzhen byt' nekto, kto voploschaet ih, -- v protivnom sluchae my upodobljaemsja ohotniku, kotoryj nahodit neobyknovennye sokrovischa s pomosch'ju svoego binoklja. Gde etot "nekto" v kosmicheskom soznanii? Tam nikogo net... Esche luchshe eto mozhno pojasnit' s pomosch'ju bolee sovremennoj analogii: my mozhem posylat' rakety na Solntse, dostigaja takim obrazom "vershiny mira", no ne "vershiny" cheloveka, potomu chto etot protsess ego nikak ne kasaetsja: prosto raketa uletaet, vyhodit iz zemnoj atmosfery, vot i vse. Tochno tak zhe jogin, kontsentrirujas' na odnoj tochke svoego suschestva, sobiraet vsju svoju energiju v edinoe tseloe, probivaet svoju vneshnjuju obolochku i pokidaet ee, kak raketa, vyhodja v drugoe kosmicheskoe ili nirvanicheskoe izmerenie.
On voznessja sgoraja, kak ognennyj stolp.

(He mounted burning like a cone of fire.)

"Savitri".
No kto realizoval kosmicheskoe soznanie? Ne jogin -- jogin prodolzhaet pit', est', spat', inogda bolet' i umirat', kak i vse ljudi-zhivotnye. Eto ne on, a kroshechnaja tochka ego suschestva imeet perezhivanie kosmicheskogo soznanija - ta samaja tochka, na kotoroj on tak userdno kontsentrirovalsja dlja togo, chtoby vyjti iz svoej obolochki. Vse ostal'noe ego suschestvo, chelovecheskaja i zemnaja priroda, kotoroj on prenebreg, kotoruju on podavljal ili umerschvljal, chtoby skontsentrirovat'sja na etoj edinoj tochke uhoda, ne vhodit v kosmicheskoe soznanie, ne uchastvuet v nem -- razve tol'ko posredstvom kosvennogo vzaimodejstvija. Poetomu SHri Aurobindo ustanavlival sledujuschij pervyj i ochen' vazhnyj printsip: nedostatochno linejnoj realizatsii v odnoj tochke, ibo neobhodima global'naja realizatsija vo vseh tochkah, realizatsija, ohvatyvajuschaja vse suschestvo individuuma. Esli vy hotite izmenit' svoju prirodu i svoe suschestvo i uchastvovat' v sozdanii novogo mira, -- govorit Mat', -- to takogo vot stremlenija, takogo odnonapravlennogo i linejnogo usilija uzhe nedostatochno; vy dolzhny ohvatit' vse i vmestit' vse v svoem soznanii. Otsjuda -- integral'naja joga, ili "polnaja joga", -- purna-joga. My pytalis' izbavit'sja ot individual'nosti dlja togo, chtoby vyporhnut' v duhovnye i kosmicheskie prostory, osvobodivshis', nakonets, ot etogo uzhasnogo bremeni, no bez nee my nichego ne smozhem sdelat' dlja zemli, my ne smozhem privnesti vniz sokrovischa svyshe: Est' nechto bol'shee, chem prostoe samorazrushenie illjuzornoj obolochki individual'nosti v Beskonechnom . I SHri Aurobindo prihodit u vyvodu, ochen' dlja nas vazhnomu: Podavlenie individual'nogo vpolne mozhet stat' podavleniem boga v cheloveke .
Vtoroe soobrazhenie zasluzhivaet esche bol'shego vnimanija. Vernemsja k analogii s raketoj: ona mozhet preodolet' zemnuju atmosferu v ljuboj tochke; prichem ona mozhet dostich' tseli -- naprimer, Solntsa -- nezavisimo ot togo, zapustjat li ee s ekvatora, ili, skazhem, iz N'ju-Jorka. Net nikakoj neobhodimosti vzbirat'sja na Everest dlja togo, chtoby ustanovit' tam startovuju ploschadku! Tochno tak zhe jogin mozhet dobit'sja realizatsii kosmicheskogo soznanija v ljuboj chasti ili na ljubom plane svoego suschestva -- v ume, v serdtse ili dazhe v tele -- ibo kosmicheskij Duh -- vezde, v ljuboj tochke vselennoj. Perezhivanie mozhet nachat'sja gde ugodno, na ljubom urovne -- posredstvom kontsentratsii na kamne ili vorob'e, na idee ili na molitve, na kakom-to oschuschenii ili na tom, chto ljudi prezritel'no nazyvajut idolom. Kosmicheskoe soznanie -- eto ne vysshaja tochka chelovecheskogo soznanija; chtoby dostich' ego, my ne podnimaemsja nad individual'nym, a vyhodim iz nego. Vrjad li nuzhno sovershat' voshozhdenie v soznanii ili stat' Plotinom dlja togo, chtoby dostich' vselenskogo Duha. Naoborot: chem nizhe mental'noe razvitie cheloveka, tem dostupnee dlja nego takoe perezhivanie; u pastuha pod zvezdnym nebom ili u rybaka iz Galilei est' dlja etogo bol'she shansov, chem u vseh filosofov mira vmeste vzjatyh. No togda kakoj zhe smysl v razvitii chelovecheskogo soznanija, esli narodnyj mistitsizm okazyvaetsja bolee effektivnym? Nam prihoditsja priznat', chto ili my nahodimsja na lozhnom puti, ili zhe eti misticheskie uhody ne ischerpyvajut soboju vsego smysla evoljutsii. Esli zhe my dopustim, chto evoljutsionnyj put', kotorym nuzhno sledovat', -- eto put' gigantov, kotorye javljali soboju vershiny razvitija zemnogo soznanija -- Leonardo da Vinchi, Bethovena, Aleksandra Velikogo, Dante, -- to my tut zhe dolzhny budem priznat', chto ni odin iz etih velikih ljudej ne byl sposoben preobrazovat' zhizn'. Takim obrazom, vershiny razvitija uma ili serdtsa, kak i vershiny kosmicheskogo soznanija, ne dajut nam kljucha k razgadke i sile, kotoraja smozhet izmenit' mir: neobhodim inoj printsip soznanija. No etot novyj printsip soznanija dolzhen byt' nerazryvno svjazan so vsemi ostal'nymi printsipami, potomu chto esli eta svjaz' razryvaetsja ili terjaetsja individual'noe, to my snova vpadaem v kosmicheskuju ili misticheskuju dispersiju, terjaja nashu svjaz' s zemlej. Osoznanie Edinstva i Transtsendentnogo -- eto, nesomnenno, neobhodimaja osnova ljuboj realizatsii (sozdavat' chto-libo bez etogo -- eto vse ravno, chto stroit' dom bez fundamenta), no osnova eta dolzhna byt' dostizhima s sohraneniem evoljutsionnoj nepreryvnosti -- eto dolzhna byt' evoljutsija, a ne revoljutsija. Koroche govorja, nam nuzhno vyjti ne vyhodja. Nam nuzhna ne raketa, kotoraja ustremljaetsja k Solntsu i razbivaetsja tam, a raketa, kotoraja smozhet zagarpunit' Solntse vysshego soznanija i privnesti ego vo vse tochki zemnogo soznanija: Konechnoe znanie -- eto to, kotoroe postigaet i prinimaet Boga vo vselennoj tak zhe, kak i za predelami vselennoj, a integral'naja joga -- eto ta, kotoraja, obretja Transtsendentnoe, mozhet vernut'sja vo vselennuju, ne terjaja obretennogo i sohranjaja sposobnost' svobodno nishodit' i voshodit' po velikoj lestnitse suschestvovanija . Eto dvojnoe dvizhenie voshozhdenija i nishozhdenija predstavljaet soboju glavnyj printsip, lezhaschij v osnove supramental'nogo otkrytija. No na puti k nemu SHri Aurobindo predstojalo kosnut'sja nekoj, esche neizvestnoj pruzhiny, chto privelo zatem k korennym izmenenijam.
Voshozhdenie soznanija
Nedostatochno opisat' otkrytie SHri Aurobindo, my dolzhny takzhe uznat', kakim obrazom my mozhem sdelat' ego dostupnym dlja sebja. No vrjad li mozhno nachertit' diagrammu i skazat': "Vot -- put'", potomu chto duhovnoe razvitie vsegda prisposablivaetsja k prirode kazhdogo individuuma, -- i eto pravil'no, ved' my izuchaem sebja, a ne inostrannyj jazyk; a dvuh odinakovyh natur ne byvaet: Ideal, kotoryj ja stavlju pered nashej jogoj, ne nalagaet nikakih put ni na duhovnuju zhizn', ni na ustremlenija. Duhovnuju zhizn' nevozmozhno sformulirovat' v vide kakih-to zhestkih opredelenij ili svjazat' fiksirovannymi mental'nymi pravilami; ona predstavljaet soboju shirokoe pole evoljutsii, bespredel'noe tsarstvo, kotoroe potentsial'no shire, chem vse tsarstva, nahodjaschiesja nizhe, tsarstvo s sotnej oblastej, s tysjach'ju tipov, stadij, form, putej, raznoobraznyh idealov, stepenej duhovnogo progressa . Poetomu my mozhem predlozhit' lish' neskol'ko ukazanij v nadezhde na to, chto kazhdyj sam sdelaet svoe sobstvennoe osoboe otkrytie, kotoroe osvetit ego put'. Vsegda nuzhno pomnit', chto podlinnyj mehanizm jogi sostoit v tom, chtoby pojmat' nit' svoego soznanija, -- "sijajuschuju nit'", o kotoroj govorili rishi (Rig Veda. X.53), -- derzhat'sja za nee i idti tak do samogo kontsa.
Poskol'ku ni kosmicheskoe soznanie, ni Nirvana ne dajut nam togo evoljutsionnogo kljucha, kotoryj my ischem, davajte vozobnovim nashi poiski vmeste s SHri Aurobindo tam, gde oni byli ostavleny, -- t.e. v Barode, -- pered tem, kak on obrel dva velikih perezhivanija. Pervyj shag -- eto voshozhdenie k Sverhsoznatel'nomu. Kak my uzhe govorili, kogda v ume ischuschego ustanavlivaetsja bezmolvie, kogda on uspokaivaet svoe vital'noe i osvobozhdaetsja iz pogruzhenija v fizicheskoe, soznanie vyputyvaetsja iz beschislennyh vidov dejatel'nosti, v kotoryh ono nezametno peremeshivalos' i drobilos', i obretaet nezavisimoe suschestvovanie. Ono stanovitsja podobnym nezavisimomu suschestvu vnutri nas, nekoj kompaktnoj Sile, intensivnost' kotoroj postojanno rastet. I po mere svoego rosta ego vse men'she i men'she udovletvorjaet ogranichennoe suschestvovanie v tele. My obnaruzhivaem, chto ono izluchaet sebja vovne -- snachala vo vremja sna, zatem v nashih meditatsijah, a potom i togda, kogda glaza nashi shiroko otkryty. No eto dvizhenie vovne ne javljaetsja, tak skazat', iskljuchitel'no "gorizontal'nym" -- v napravlenii vseobschego Razuma, vseobschego Vital'nogo i vseobschego Fizicheskogo; soznanie stremitsja takzhe i vvys'. Eto stremlenie vvys' -- ne objazatel'no rezul'tat soznatel'noj distsipliny, ono mozhet byt' estestvennoj, spontannoj potrebnost'ju (nikogda ne sleduet zabyvat', chto nashi usilija v etoj zhizni -- eto prodolzhenie mnozhestva usilij vo mnogih proshlyh zhiznjah -- otsjuda neravnomernoe razvitie razlichnyh individuumov i nevozmozhnost' ustanovlenija fiksirovannyh pravil). My mozhem neproizvol'no chuvstvovat' nad golovoj nechto, privlekajuschee nashe vnimanie, podobnoe prostoru ili svetu, podobnoe nekomu namagnichennomu poljusu, kotoryj javljaetsja istochnikom vseh nashih dejstvij i myslej, nekuju zonu kontsentratsii nad makushkoj golovy. Ischuschij uspokaivaet svoj razum ne dlja togo, chtoby stat' beschuvstvennym, kak churban. Bezmolvie ego ne mertvo, ono zhivo. On nastraivaetsja na priem svyshe, ibo tam on chuvstvuet zhizn'. Bezmolvie -- eto ne konets, a sredstvo, tochno tak zhe, kak izuchenie notnoj gramoty -- eto sredstvo ovladenija muzykoj, prichem muzykoj samoj raznoj. Den' za dnem po mere togo, kak ego soznanie stanovitsja vse bolee konkretnym, on poluchaet sotni malen'kih, pochti nezametnyh opytov [perezhivanij], kotorye proistekajut iz etogo Bezmolvija naverhu. On ne budet ni o chem dumat' -- i vdrug mysl' peresechet ego um, dazhe ne mysl', a legkij schelchok, i on tochno znaet, chto emu nuzhno delat' i kak eto dolzhno byt' sdelano -- vplot' do malejshih detalej, kak budto sostavnye chasti golovolomki v mgnovenie oka vstali na svoi mesta -- i vse eto s absoljutnoj opredelennost'ju (vnizu vsegda vse neopredelenno, ljubaja problema vsegda imeet, po men'shej mere, dva reshenija). Ili on mozhet oschutit' legkij impul's, prikazyvajuschij: "Pojdi, navesti togo-to i togo-to", on idet, i okazyvaetsja, chto tomu cheloveku "sluchajno" nuzhna ego pomosch'; ili on mozhet slyshat' vnutri sebja: "Ne delaj etogo", no nastaivaet na svoem i s nim proishodit neschastnyj sluchaj; ili bez vsjakoj prichiny nogi nesut ego k kakomu-to mestu, gde on nahodit kak raz te obstojatel'stva, kotorye emu pomogut; ili, esli emu neobhodimo reshit' kakuju-to problemu, on ostaetsja nepodvizhnym, bezmolvnym, obraschennym vvys' -- i prihodit otvet, jasnyj i neoproverzhimyj. Kogda ischuschij govorit ili pishet, to nad svoej golovoj on mozhet ochen' chetko chuvstvovat' nekoe prostranstvo, otkuda on vytjagivaet svoi mysli, kak sijajuschuju nit' iz kokona -- on ne dvizhetsja, a prosto ostaetsja pod potolkom i rasshifrovyvaet ego. Nichto ne dvizhetsja v ego golove. No esli on hot' nemnogo pozvoljaet vmeshat'sja svoemu umu, to vse propadaet ili, vernee, iskazhaetsja, potomu chto um pytaetsja poddelat' ukazanija svyshe (on podoben obez'jane -- tak sil'na ego privychka k peredraznivaniju i podrazhaniju) i oshibochno prinimaet slabye svoi vspyshki za ozarenija. I chem bol'she ischuschij nauchaetsja slushat', vnimaja etim ukazanijam svyshe i doverjat' im (oni ne nastojchivy i ne shumny i ne nosjat prikaznogo haraktera -- naoborot, oni edva razlichimy, kak dyhanie, ne uspevaesh' dazhe podumat' o nih -- ih mozhno tol'ko oschutit', tak oni bystry), tem bolee chastymi, tochnymi i neotrazimymi oni stanovjatsja. Postepenno on prihodit k ponimaniju, chto vse ego dejstvija, dazhe samye neznachitel'nye, mogut opredeljat'sja iskljuchitel'no etim bezmolvnym istochnikom naverhu, chto ottuda prihodjat vse ego mysli, luchaschiesja i ne vyzyvajuschie somnenij, i chto vnutri nego rozhdaetsja nekoe spontannoe znanie. Vsja zhizn' ego stanovitsja cheredoj malen'kih chudes. Esli by chelovechestvo hot' mel'kom uvidelo, kakie bezbrezhnye radosti, kakie sovershennye sily, kakie svetjaschiesja sfery spontannogo znanija, kakaja bespredel'naja tishina nashego suschestva ozhidajut nas na prostorah, kotorye esche ne pokorila nasha zhivotnaja evoljutsija, to oni brosili by vse i ne uspokoilis' do teh por, poka ne ovladeli by etimi sokrovischami. No uzok put', trudno poddajutsja dveri, a strah, nedoverie i skeptitsizm, strazhi Prirody, ne pozvoljajut nam ujti, pokinut' ee privychnye pastbischa .
Kogda prostranstvo naverhu stanovitsja konkretnym i zhivym, podobnym nekoj svetovoj protjazhennosti nad golovoj, ischuschij chuvstvuet neobhodimost' vojti s nim v bolee tesnoe obschenie, vyrvat'sja na volju, ibo on nachinaet oschuschat' s boleznennoj ostrotoj, naskol'ko ogranicheny i lozhny razum i zhizn' vnizu -- chto-to vrode karikatury. On chuvstvuet, chto natykaetsja na vse vokrug, chto vezde -- disgarmonija, chto nigde on ne doma. Vse lozhno -- slova, idei, oschuschenija -- i vse razdrazhaet. Eto ne to, vsegda ne to -- vsegda okolo, priblizitel'noe, vsegda nizhe otmetki. Inogda vo sne -- eto predvoshischajuschij znak -- nas mozhet ohvatit' velikij jarkij svet -- nastol'ko oslepitel'nyj, chto my nevol'no zakryvaem glaza -- solntse kazhetsja temnym v sravnenii s nim, -- govorila Mat'. Nam nuzhno prosto pozvolit' rasti etoj Sile vnutri nas, etoj Soznaniju-Sile, kotoraja oschup'ju probivaet sebe dorogu vvys', my dolzhny zazhech' ee nashej potrebnost'ju v chem-to inom -- potrebnost'ju v bolee istinnoj zhizni, v bolee istinnom znanii, v bolee istinnyh otnoshenijah s mirom i ego suschestvami -- nash velichajshij progress -- eto uglubljajuschajasja potrebnost' . [Our greatest progress [is] a deepened need.] My dolzhny otbrosit' vse mental'nye postroenija, kotorye ezhesekundno pytajutsja ukrast' sijajuschuju nit', my dolzhny postojanno nahodit'sja v sostojanii otkrytosti i byt' vyshe idej. Potomu chto nam nuzhny ne idei, a prostranstvo. My dolzhny ne tol'ko porvat' silki uma i chuvstv, no izbezhat' i drugih silkov -- ne poddat'sja soblaznu stat' myslitelem, teologom i osnovatelem tserkvi, ne popast' v teneta Mira i v rabstvo Idei. Vse eto nahoditsja vnutri nas, ozhidaja togo, chtoby zakljuchit' Duh v formu; no dolzhny vsegda idti za predely, vsegda otrekat'sja ot men'shego dlja bol'shego, ot konechnogo radi Beskonechnogo; my dolzhny byt' podgotovleny k tomu, chtoby sledovat' ot ozarenija k ozareniju, ot perezhivanija k perezhivaniju, ot odnogo sostojanija dushi k drugomu. ... My ne dolzhny takzhe privjazyvat'sja dazhe k tem istinam, kotorye my schitaem samymi nadezhnymi, ibo oni est' ni chto inoe, kak formy i projavlenija Nevyrazimogo, kotoroe otkazyvaetsja ogranichit' sebja kakoj-libo formoj ili projavleniem; my vsegda dolzhny ostavat'sja otkrytymi dlja vysshego Slova svyshe, kotoroe ne ogranichivaet sebja svoim sobstvennym smyslom, otkrytymi svetu Mysli, kotoraja neset v sebe svoi protivopolozhnosti . I togda odnazhdy, siloj nashego gorjachego zhelanija -- kak pod vysokim davleniem szhatogo gaza, -- dveri, v kontse kontsov, otkryvajutsja: Soznanie podnimaetsja, -- govorit Mat', -- lomaet etu zhestkuju obolochku tam, u makushki golovy, i vy vyhodite v svet.
Naverhu byla raskalennaja belaja tishina.

(Above was an ardent white tranquility.)
Eto perezhivanie javljaetsja otpravnoj tochkoj jogi SHri Aurobindo. Eto vyhod v Sverhsoznatel'noe, perehod iz proshlogo, kotoroe svjazyvaet nas po rukam i nogam, k buduschemu, kotoroe vidit. Vmesto togo chtoby byt' vnizu, vechno chem-to otjagoschennymi, my nahodimsja naverhu i dyshim polnoj grud'ju: Soznanie uzhe ne nahoditsja v tele i ne ogranicheno im; ono oschuschaet sebja ne tol'ko naverhu, no i protjazhennym v prostranstve; telo nahoditsja nizhe ego *) bolee vysokogo raspolozhenija i okutano ego *) rasshirennym soznaniem ... ono

*) Vysshego suschestva (prim.per.).

-stanovitsja lish' detal'ju v obshirnosti suschestva, ego instrumental'noj chast'ju ... v okonchatel'noj realizatsii ustanovlenija soznanija naverhu emu uzhe po-nastojaschemu net vozvraschenija vniz za iskljucheniem toj ego chasti, kotoraja mozhet nishodit' dlja togo, chtoby rabotat' v tele ili na nizshih planah, v to vremja kak suschestvo, postojanno nahodjascheesja naverhu, osuschestvljaet kontrol' nad vsem, chto perezhivaetsja i delaetsja

.

Ekstaz?

Kogda my osuschestvili takoe voznesenie, nam nuzhno sistematicheski prodolzhat' rabotu. Ibo pervoe pobuzhdenie soznanija -- eto stremitel'no vosparit' vvys', kak budto ego zasasyvaet vverh, chto daet oschuschenie beskonechnogo voshozhdenija, podobnoe raketnomu vzletu, kotoroe dostigaet vysshej tochki v svoego roda svetjaschejsja nirvane. Blazhenstvo, kotorym soprovozhdaetsja etot okonchatel'nyj rastsvet (kotoryj nam kazhetsja okonchatel'nym), ili eto rastvorenie, nastol'ko neotrazimo, chto sama ideja vozvraschenija vniz k promezhutochnym urovnjam i esche kakih-to tam poiskov kazhetsja poistine nelepoj -- eto bylo by podobno padeniju. Nashe edinstvennoe zhelanie -- eto ostavat'sja kak mozhno bolee nepodvizhnymi, chtoby ne narushit' etogo voshititel'nogo Pokoja. Po suti dela, my dazhe ne zamechaem nikakih promezhutochnyh urovnej mezhdu vyhodom u makushki golovy i slijaniem s etim belym pokoem, tsarjaschim vverhu. Osleplennyj, nemnogo pohozhij na novorozhdennogo rebenka, kotoryj vpervye otkryvaet glaza, ischuschij nesposoben nichego raspoznat', vse slivaetsja v belizne ili goluboj belizne, i on terjaet pochvu pod nogami, t.e. vpadaet v trans, v "ekstaz", kak govorjat na Zapade, ili v samadhi, kak govorjat v Indii. Kogda on vozvraschaetsja ottuda, to obnaruzhivaet, chto absoljutno nichego ne izmenilos'. V svoej speshke dostich' ... [ischuschij] polagaet, chto mezhdu dumajuschim razumom i Vysochajshim net nichego, i, zakryvaja glaza v samadhi, pytaetsja prorvat'sja skvoz' vse to, chto v dejstvitel'nosti nahoditsja na promezhutochnyh planah, dazhe ne vidja pri etom velikih i sijajuschih tsarstv Duha. Vozmozhno, on dostigaet svoej tseli, no lish' dlja togo, chtoby usnut' v Beskonechnom .

Estestvenno, ischuschij, v svoju ochered', skazhet, chto eto chudesnoe, neopisuemoe, vysshee sostojanie. I on budet prav, no, kak zametila Mat', vy mozhete govorit' ob etom chto ugodno, potomu chto vy poprostu nichego ne pomnite. ... Kogda vy vyhodite iz svoego soznatel'nogo suschestvovanija i vhodite v tu chast' sebja, kotoraja polnost'ju nesoznatel'na, ili, vernee, v zonu, s kotoroj u vas net soznatel'noj svjazi, vy vhodite v samadhi. ... Vy nahodites' v bezlichnom sostojanii, t.e. v sostojanii, v kotorom vy nesoznatel'ny; poetomu, estestvenno, vy nichego ne pomnite, potomu chto vy nichego ne osoznali. SHri Aurobindo chasto govoril, chto ekstaz -- eto prosto vysshaja forma bessoznanija. Mozhet okazat'sja, chto to, chto my nazyvaem Transtsendentnym, Absoljutnym ili Vysshim, -- eto ne to, chto chasto opisyvajut kak ekstaticheskoe rastvorenie [lichnosti, individual'nogo], no prosto predel, kotoryj javljaetsja takovym dlja nashego tepereshnego soznanija. Ved' utverzhdenie "Zdes' konchaetsja mir, a tam nachinaetsja Transtsendentnoe" sovershenno absurdno -- budto mezhdu nimi est' kakaja-to peregorodka ili razryv. Dlja pigmeja Transtsendentnoe mozhet nachinat'sja s elementarnogo utverzhdenija razuma, chto summa bukv k+o+t daet v rezul'tate slovo "kot", a na urovne ne vyshe intellekta ves' mir, navernoe, ischezaet dlja nego. T.e. esli v dejstvitel'nosti razryv suschestvuet, to tol'ko v nashem soznanii. Mozhet byt', evoljutsionirovat' -- eto znachit kak raz issledovat' novye bogatye plasty soznanija vnutri neischerpaemogo Transtsendentnogo, kotoroe na samom dele nahoditsja ne "v vyshine" ili esche gde-to vne etogo mira, a zdes', povsjudu, issledovat' vse eto, postepenno raskryvaja sebja sobstvennomu vzoru. Ved' esli doistoricheskoe Transtsendentnoe nahodilos' kogda-to nad protoplazmoj, zatem nad amfibiej, nad shimpanze i nad chelovekom, to eto ne znachit, chto ono ostavilo mir protoplazmy dlja togo, chtoby otstupit' vyshe, postojanno stremjas' otsoedinit' sebja ot zhizni -- eto my ostavili za soboj primitivnoe bessoznatel'noe i prodvinulis' vpered v vezdesuschem Transtsendentnom. *)

*) Na dannoj stadii nashih poiskov vrjad li mozhno esche chto-nibud' skazat' po etomu povodu. Neobhodimo supramental'noe perezhivanie, chtoby najti kljuch k razresheniju etogo lozhnogo protivopostavlenija.

-- Sledovatel'no, vmesto togo chtoby terjat' soznanie v vysshej tochke soznanija (ili v toj tochke, kotoraja ischuschemu kazhetsja vysshej) i schitat' ekstaz priznakom progressa, on dolzhen ponjat', chto eto priznak nesoznanija, i stremit'sja najti zhizn', skrytuju takim vot oslepleniem: Starajtes' razvit' svoju vnutrennjuju individual'nost', -- govorila Mat', -- i vy smozhete vojti v te zhe samye sfery polnost'ju soznatel'nymi, nasladit'sja obscheniem s vysshimi sferami ne terjaja soznanija, a ne vozvraschat'sja ottuda s pustymi rukami, ne obretja nikakogo opyta. *)

*) Nekotorye polagajut, chto bolee pravil'nym nazvaniem dlja togo, chto nazyvaetsja ekstazom, bylo by slovo "enstaz". No razve chelovek nahoditsja "v sebe" lish' togda, kogda on nahoditsja vne sebja? Ved' "ekstaz" -- ex-stare oznachaet prebyvanie vne svoego tela ili vne vosprijatija mira. Drugimi slovami, my hoteli by opredelit' kak "v sebe" to, chto ne nahoditsja vne nas. Znachit, ob "enstaze" my smozhem govorit' lish' togda, kogda vysshie perezhivanija budut proishodit' v nashem tele i v gusche povsednevnoj zhizni. V protivnom sluchae eto vyrazhenie netochno, hotja v nem nagljadno otrazhena ta propast', kotoruju my sozdali mezhdu zhizn'ju i Duhom.

-A SHri Aurobindo nastaival: Eta realizatsija dolzhna prijti i zakrepit'sja imenno v bodrstvujuschem sostojanii, chtoby stat' real'nost'ju zhizni. ... Perezhivanie i trans polezny pri otkrytii suschestva i pri ego podgotovke, no po-nastojaschemu ovladevajut realizatsiej lish' togda, kogda ona postojanno prisutstvuet v bodrstvujuschem sostojanii . TSel', kotoruju my presleduem, - eto sostojanie integral'nogo gospodstva, a ne duhovnoe iskljuchenie sebja iz igry, i gospodstvo eto vozmozhno lish' pri uslovii nepreryvnosti soznanija. Kogda my vhodim v ekstaz, my terjaem "kogo-to" -- togo, kto mog by sozdat' most mezhdu silami naverhu i bessiliem vnizu.

Posle togo, kak v aliporskoj tjur'me SHri Aurobindo prorval obolochku u makushki golovy, on pristupil k metodicheskomu issledovaniju planov soznanija, kotorye nahodjatsja vyshe obychnogo razuma -- tochno tak zhe, kak on issledoval, buduchi v Barode, plany soznanija, nahodjaschiesja vnizu. SHri Aurobindo vozobnovil eto issledovanie v tom meste, gde on prekratil voshozhdenie po velikoj lestnitse soznanija, kotoraja prostiraetsja -- nepreryvno, bez ekstaticheskih razryvov -- ot Materii do toj nepoznannoj tochki, kotoraja stanet mestom ego otkrytija. Ibo vysochajshaja istina, integral'noe samopoznanie dostigaetsja ne samooslepljajuschim pryzhkom v Absoljutnoe, no terpelivym perehodom za predely razuma .

Suschestva i sily

Vse my postojanno i ne soznavaja togo, poluchaem pobuditel'nye impul'sy iz etih vysshih, sverhsoznatel'nyh sfer, podvergaemsja ih vlijaniju. Eto vlijanie i impul'sy projavljajutsja v nas v vide idej, idealov, stremlenij ili proizvedenij iskusstva; oni skryto formirujut nashu zhizn' i nashe buduschee. Podobnym zhe obrazom postojanno i ne soznavaja togo, my poluchaem vital'nye vibratsii i vibratsii tonkogo fizicheskogo, kotorye ezheminutno opredeljajut nashu emotsional'nuju zhizn' i otnoshenija s mirom. To, chto my zakljucheny v individual'nom tele, -- eto lish' zritel'naja illjuzija; na samom dele, vse my naskvoz' poristy i kupaemsja vo vseobschih silah, kak anemon v more: CHelovek vpadaet v intellektual'nyj (bessmyslennyj *) lepet o smysle i znachenii

*) Vstavka avtora (prim.per.).

-sledstvij, projavljajuschihsja na poverhnosti, i pripisyvaet ih vse svoemu "blagorodnomu ja", ignoriruja tot fakt, chto ego "blagorodnoe ja" lezhit daleko za predelami ego videnija, za pokrovami tusklo iskrjaschegosja intellekta i dymnogo tumana ego vital'nyh oschuschenij, emotsij, pobuzhdenij, chuvstv i vpechatlenij

. Nasha edinstvennaja svoboda zakljuchaetsja v tom, chtoby podnjat' sebja k vysshim planam s pomosch'ju individual'noj evoljutsii. Nasha edinstvennaja zadacha -- eto translirovat' i material'no voploschat' istiny togo plana, k kotoromu my prinadlezhim. Esli my hotim luchshe ponjat' mehanizm universuma, to osobogo vnimanija zasluzhivajut dva vazhnyh momenta, obschih dlja vseh planov soznanija ot naivysshego do samyh nizshih. Vo-pervyh, eti plany zavisjat ot nas ili ot togo, chto my o nih dumaem, ne bolee, chem more zavisit ot anemona; oni suschestvujut nezavisimo ot cheloveka. Sovremennaja psihologija, soglasno kotoroj vse urovni bytija peremeshany v tak nazyvaemom "kollektivnom bessoznatel'nom", podobnom ogromnoj shljape fokusnika, otkuda vy mozhete v ljubom porjadke vytaskivat' arhetipy i nevrozy, demonstriruet v etom otnoshenii polnoe otsutstvie videnija: vo-pervyh, potomu chto sily etih planov vovse ne javljajutsja bessoznatel'nymi, nesoznatel'ny tol'ko my -- oni zhe vpolne soznatel'ny, gorazdo bolee soznatel'ny, chem my; a, vo-vtoryh, potomu chto sily eti ne javljajutsja "kollektivnymi" -- v tom smysle, chto oni predstavljajut soboj produkt chelovecheskogo suschestvovanija ne bolee, chem more javljaetsja rezul'tatom dejatel'nosti anemona; skoree, naoborot, frontal'nyj chelovek -- eto produkt dejatel'nosti toj Neob`jatnosti, kotoraja prostiraetsja za nim. Gradatsii soznanija -- eto vseobschee sostojanie, ne zavisjaschee ot tochki zrenija sub`ekta [the outlook of the subjective personality]; skoree, tochka zrenija sub`ekta opredeljaetsja tem urovnem [grade] soznanija, v kotorom ono formiruetsja [is organised] v sootvetstvii so svoej prirodoj [its typal nature] ili evoljutsionnym urovnem [its evolutionary stage] . No6 estestvenno, tol'ko cheloveku prisusche izvraschat' porjadok veschej, pomeschaja sebja v tsentr mira. Vo vsjakom sluchae, eto vopros ne teorii, kotoruju vsegda mozhno osporit', a opyta, kotoryj mozhet poluchit' kazhdyj. Pokidaja nashe telo i soznatel'no vhodja v eti plany, my osoznaem, chto oni suschestvujut vne nas tochno tak zhe, kak ves' mir suschestvuet, naprimer, vne Long-Ajlenda; sily, suschestva i dazhe prostranstva v nih ne imejut nichego obschego s nashim zemnym mirom -- ob etom svidetel'stvujut tselye tsivilizatsii, vse eto podtverzhdajut ih nastennye rospisi i rez'ba, pozdnee -- hramy; prichem eti tsivilizatsii byli, mozhet byt', menee tehnicheski razvity, chem nasha, no nikak ne menee razvity v intellektual'nom otnoshenii.

Vtoroj vazhnyj moment kasaetsja soznatel'nyh sil i suschestv, kotorye naseljajut eti plany. Zdes' nam nuzhno chetko otlichat' sueverija i dazhe mistifikatsii -- rezul'taty nashego "kollektivnogo" vklada -- ot istiny. Kak vsegda, oni tesno peremeshany. Zdes' ischuschemu, kak nikogda, nuzhno byt' vooruzhennym jasnoj strogost'ju [prostotoj] [clear austerity], o kotoroj tak chasto govoril SHri Aurobindo. On ne dolzhen smeshivat' sverhrazum s otsutstviem razuma. Na praktike, kogda my soznatel'no vhodim v eti plany -- vo sne, v meditatsii ili pri proizvol'noj eksteriorizatsii [ostavlenii tela], - u nas mogut byt' videnija dvuh tipov: bezlichnye potoki sily, kotorye mogut byt' bolee ili menee svetjaschimisja, i suschestva. No eto dva vida odnogo i togo zhe javlenija: Stena mezhdu soznaniem i siloj, mezhdu bezlichnost'ju i lichnost'ju stanovitsja gorazdo ton'she, kogda vyhodish' za predely pokrova materii. Esli smotret' na protsess so storony bezlichnoj sily, to vidish' silu ili energiju za rabotoj, dejstvujuschuju radi nekotoroj tseli s nekotorym rezul'tatom, esli zhe smotret' so storony suschestva, to vidish' suschestvo, vladejuschee, upravljajuschee soznatel'noj siloj i ispol'zujuschee ee, ili zhe predstavitelja etoj sily, kotorogo ona ispol'zuet v kachestve orudija svoego osobogo dejstvija i vyrazhenija. ... Sovremennaja nauka ustanovila, chto esli vy smotrite na dvizhenie energii, to, s odnoj storony, kazhetsja, chto eto volna, i ono vedet sebja, kak volna, s drugoj zhe storony, ono javljaet soboju massu chastits, prichem i volna, i massa chastits dejstvujut svoim osobym obrazom. Zdes' primerno tot zhe printsip .

Odni na puti svoih poiskov nikogda ne budut videt' suschestva: no tol'ko svetonosnye sily; drugie budut videt' tol'ko suschestva i nikogda -- sily; vse zavisit ot ih vnutrennej predraspolozhennosti, ot formy ih stremlenija, ot religioznyh, duhovnyh ili dazhe kul'turnyh istokov. Imenno zdes' lezhit nachalo sub`ektivnosti, a s nej -- vsevozmozhnye smeshenija i predrassudki. No sub`ektivnost' ne otritsaet samogo perezhivanija, ona lish' pokazyvaet, chto odno i to zhe mozhno videt' i peredavat' po-raznomu v zavisimosti ot natury cheloveka -- videli li kogda-nibud' dvoe hudozhnikov odin i tot zhe landshaft odinakovo? Po mneniju "spetsialistov" po estestvennym i sverh`estestvennym javlenijam, kriteriem istiny dolzhno byt' neizmennoe soderzhanie opyta, no eto bol'she pohozhe na kriterij tupoj monotonnosti; mnogoobrazie opyta dokazyvaet lish' to, chto imeem delo s zhivoj istinoj, a ne s zhestkim kuskom dereva, kotoromu podobny nashi mental'nye i fizicheskie istiny. Krome togo, eti soznatel'nye -- vysokosoznatel'nye -- sily mogut prinimat' po zhelaniju ljuboe oblich'e ne dlja togo, chtoby vvesti nas v zabluzhdenie, no dlja togo, chtoby sdelat' sebja dostupnymi soznaniju teh, kto otkryvaetsja im ili vzyvaet k nim. Naprimer, hristianskij svjatoj, kotoryj imeet videnie devy Marii, i indus, kotoromu javljaetsja Durga, vidjat, vozmozhno, odno i to zhe; oni mogli vojti v kontakt s odnim i tem zhe planom soznanija, s odnimi i temi zhe silami, no sovershenno jasno, chto videnie Durgi nichego by ne znachilo dlja hristianstva. A esli by ta zhe samaja sila projavilas' by v svoem chistom sostojanii, t.e. kak bezlichnaja izluchajuschaja vibratsija, to ee ne smog by vosprinjat' ni poklonjajuschijsja deve Marii, ni verujuschij v Durgu; ona ne zatronula by ih serdtse. U poklonenija ved' tozhe svoja pravda; ne kazhdyj obladaet razvitiem, neobhodimym dlja togo, chtoby oschutit' silu ljubvi, kotoraja soderzhitsja v prostom malen'kom zolotom svete, ne imejuschem formy. No esche bolee interesno to, chto esli poet, naprimer, Rembo ili SHelli, vojdet v kontakt s temi zhe planami soznanija, to on uvidit nechto inoe, chto javljaetsja tem ne menee vse tem zhe. Ochevidno, ni Durga, ni deva Marija osobo ne zanimajut poetov, poetomu oni oschutili by velikuju vibratsiju, pul'satsii sveta ili raznotsvetnye volny, kotorye prevratilis' by v nih v sil'noe poeticheskoe chuvstvo. Vspomnim, naprimer, Rembo: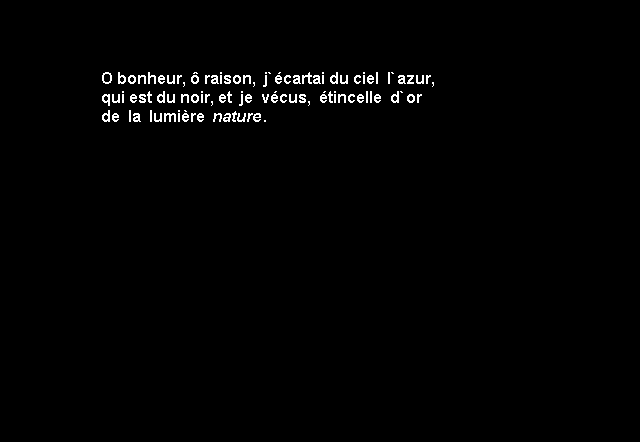 .
-- "Nakonets-to -- o, schast'e! o, razum! -- ja razdvinul na nebe lazur', kotoraja byla chernoj, i zazhil zhizn'ju zolotistoj iskry prirodnogo sveta". *)
*) Odno leto v adu. Bred II. Alhimija slova // Rembo A. Stihotvorenija. M., 1982. S. 172 (prim.per.).
-Odnako eta emotsija mogla prijti iz togo zhe plana soznanija, ili, my mogli by skazat', imeet tu zhe chastotu, chto i videnie indusskogo i hristianskogo mistikov, hotja poeticheskaja transkriptsija vibratsii mozhet pokazat'sja sovershenno protivnoj vsjakomu religioznomu verovaniju. Matematik, kotoryj vo vspyshke ozarenija, prinesshej emu radost', vdrug uvidel po-novomu stroenie mira, soprikosnulsja, mozhet byt', s tem zhe urovnem soznanija, s toj zhe vibratsiej otkrovenija. Ved' nichto ne proishodit "sluchajno", vse prihodit otkuda-to, iz konkretnogo plana, kazhdyj iz kotoryh imeet svoju dlinu volny, svoju intensivnost' sveta, svoju konkretnuju chastotu, a dostich' odnogo i togo zhe plana soznanija, odnogo i togo zhe ozarenija mozhno tysjach'ju razlichnyh putej.
Te, kto vyshli, ili dumajut, chto vyshli, za predely stadii religioznyh form, mogut bystro zakljuchit', chto vse lichnye obrazy obmanchivy ili chto oni predstavljajut soboj stadiju nizshego porjadka i chto istiny tol'ko bezlichnye sily. Odnako eto est' ne chto inoe, kak zabluzhdenie nashej chelovecheskoj logiki, kotoraja vsegda stremitsja svesti vse k nekoj odnorodnoj kontseptsii. Videnie Durgi -- eto ne fiktsija i ne plod voobrazhenija -- tak zhe, kak ne javljajutsja takovymi stihotvorenie SHelli ili uravnenija Ejnshtejna, kotorye byli podtverzhdeny spustja desjat' let posle ih otkrytija. Zabluzhdenie i predrassudok nachinajutsja s utverzhdenija, chto istinna tol'ko deva Marija ili tol'ko Durga, ili odna lish' Poezija. Ob`edinjajuschaja istina zakljuchaetsja v videnii togo, chto vse eti obrazy proishodjat iz odnogo i togo zhe bozhestvennogo Sveta, chto oni javljajut soboj razlichnye stepeni etogo Sveta.
No takzhe neverno bylo by polagat', chto tak nazyvaemye "bezlichnye" sily -- eto prosto mehanicheskie sily, hotja i bolee vysokogo tipa. Oni obladajut intensivnost'ju, teplotoj, svetjaschejsja radost'ju, vyzyvaja oschuschenie prisutstvija lichnosti bez oblika -- kazhdyj, kto hot' odnazhdy perezhil massivnyj potok zolotogo sveta, sapfirno-goluboe tsvetenie ili mertsanie sveta belogo, znaet bez vsjakih somnenij, chto s etim zolotom prihodit spontannoe i polnoe radosti Znanie, s etoj lazur'ju -- samopodderzhivajuschajasja sila, s etoj beliznoj - nevyrazimoe Prisutstvie. Nekotorye sily nishodjat na nas, kak ulybka. I togda my poistine ponimaem, chto delenie na lichnoe i bezlichnoe, na soznanie i silu est' sledstvie pragmatizma chelovecheskoj logiki, ono ne imeet pochti nikakogo otnoshenija k real'nosti i vovse neobjazatel'no videt' kogo-to dlja togo, chtoby nahodit'sja v prisutstvii Lichnosti.
To, chto javljaetsja suschestvennym i chto neobhodimo osuschestvit' na praktike -- eto otkryt'sja etim vysshim regionam. Kak tol'ko eto sdelano, kazhdyj budet poluchat' po svoim sposobnostjam i nuzhdam ili v sootvetstvii s osobennostjami svoego stremlenija. Vse razdory mezhdu materialistami i verujuschimi, mezhdu filosofami, poetami, hudozhnikami i muzykantami -- eto detskie igry neiskushenogo chelovechestva, gde kazhdyj hochet peredelat' ostal'nyh po svoemu obraztsu, podognat' ih pod svoju merku. Kogda my dostigaem luchaschejsja Istiny, my vidim, chto Ona mozhet vmestit' v sebja vse bez vsjakih konfliktov i chto vse - Ee deti. Mistik poluchaet radost' ot svoego vozljublennogo Edinogo, poet poluchaet radost' ot poezii, matematik -- ot matematiki, hudozhnik -- ot mnogotsvetnyh otkrovenij. I vse eto -- duhovnye radosti.
Tem ne menee "jasnaja strogost'" ostaetsja moschnoj zaschitoj, poskol'ku, k sozhaleniju, ne kazhdyj obladaet sposobnost'ju voshodit' k vysshim regionam, gde sily chisty. Gorazdo legche otkryt'sja vital'nomu planu, miru velikoj Sily ZHizni, zhelanij i strastej (kotoryj horosho izvesten mediumam i okkul'tistam). Nizshie sily bystro nadevajut tam na sebja bozhestvennye maski oslepitel'nyh tsvetov ili uzhasajuschih obrazov. Esli ischuschij chist, to on vsegda smozhet raspoznat' etot obman -- ustrashajuschij ili chudesnyj; malen'kij svet ego psihicheskogo suschestva rastvorit vse ugrozy i vse jarkie, krichaschie obrazy vital'noj melodramy. No kak mozhno byt' uverennym v sobstvennoj chistote? Esli my ne stremimsja realizovat' lichnye predstavlenija i postroenija, a ischem vse bolee i bolee vysokoj istiny, ne meshaja Ej projavljat' sebja v toj forme, kotoruju ona sama izbiraet, to v etom budet zalog nashej zaschity ot zabluzhdenij i predrassudkov.
Teper' my mozhem popytat'sja opisat' v obschih chertah eti urovni sverhsoznatel'nogo tak, kak oni vosprinimajutsja temi, kto poshel dal'she, chem ekstaz bessoznatel'nogo, i tak, kak perezhil ih SHri Aurobindo. Konechno zhe, ne obrazy nahodjatsja blizhe vsego k vseobschej istine (oni vsegda ogranicheny i prinadlezhat opredelennoj traditsii ili veku, hotja i oni imejut svoe mesto i v nih takzhe zakljuchaetsja svoja pravda), no svetjaschiesja vibratsii. Kogda my govorim "vibratsii", to imeem v vidu ne bezzhiznennye volny kvantovoj fiziki, a dvizhenija sveta, polnye nevyrazimoj radosti, ljubvi, znanija, krasoty i vseh teh kachestv, kotorymi ozareny vysochajshie projavlenija chelovecheskogo soznanija - religioznye i nereligioznye:
Svet, ne rozhdennyj ni solntsem, ni lunoj, ni ognem,
Svet, kotoryj obitaet vnutri i tam prozrel,
Sokrovennuju vidimost' nam javljaja...

(A light not born of sun or moon or fire,
A light that dwelt within and saw within
Shedding an intimate visibility...)
Plany razuma
Prezhde chem dostich' supramental'nogo plana, s kotorogo nachinaetsja vysshee polusharie suschestvovanija, *) ischuschij peresechet razlichnye mental'nye plany ili
*) O delenii sfery bytija na dva polusharija sm. nizhe (prim.per.).
-miry, kotorye SHri Aurobindo nazval sledujuschim obrazom (v voshodjaschem porjadke): vysshij razum, ozarennyj razum, intuitivnyj razum i global'nyj razum [overmind]. My mozhem pol'zovat'sja i drugoj terminologiej, esli nam ugodno, no kazhdoj iz etih chetyreh zon sootvetstvujut harakternye dlja nee perezhivanija, kotorye mozhet podtverdit' kazhdyj, kto sposoben soznatel'no predprinjat' eto voshozhdenie.
Teoreticheski vse eti chetyre zony prinadlezhat Sverhsoznatel'nomu. Slovo "teoreticheski" upotrebleno zdes' potomu, chto porog Sverhsoznatel'nogo ne javljaetsja obschim dlja vseh, dlja kazhdogo on svoj; dlja odnih vysshij ili dazhe ozarennyj razum vrjad li mozhno nazvat' sverhsoznatel'nym planom -- eto chast' ih normal'nogo bodrstvujuschego soznanija, togda kak dlja drugih prostoj rassuzhdajuschij razum ostaetsja poka tol'ko otdalennoj vozmozhnost'ju vnutrennego razvitija. Inymi slovami, linija, otdeljajuschaja Sverhsoznatel'noe ot ostal'nyh planov soznanija, imeet tendentsiju smeschat'sja vverh v protsesse nashej evoljutsii. Esli podsoznatel'noe -- eto nashe evoljutsionnoe proshloe, to Sverhsoznatel'noe - eto nashe evoljutsionnoe buduschee; postepenno ono stanovitsja nashim normal'nym bodrstvujuschim soznaniem.
My ne budem zdes' pytat'sja opisat', chto soboju predstavljajut eti vysshie plany soznanija sami po sebe, nezavisimo ot cheloveka. Kazhdyj iz nih -- eto tselyj mir, bolee shirokij i bolee zhivoj, chem zemlja, i nash mental'nyj jazyk slishkom beden, chtoby adekvatno ih opisat'; neobhodim jazyk proroka ili poeta - "inoj jazyk" [une autre langue], kak govoril Rembo. SHri Aurobindo sdelal eto v "Savitri", svoem poeticheskom epose, k kotoromu my otsylaem chitatelja.
Milliony lotosov, kachajuschihsja na odnom steble,
Raznotsvetnye i ekstaticheskie miry drug za drugom
Vzbirajutsja k kakomu-to dalekomu nevidimomu prozreniju.

(A million lotuses swaying on one stem,
World after coloured and estatic world
Climbs towards some far unseen epiphany.)
My skazhem lish' o tom, chto eti plany prinosjat cheloveku i kak oni menjajut nashe videnie mira, kogda my voshodim k nim.
Obychnyj razum, nam vsem izvestnyj, vidit veschi posledovatel'no, odnu za drugoj -- eto, tak skazat', "linejnoe" videnie. On ne mozhet sovershit' pryzhok, ne sdelav pri etom breshi v svoej logike -- eto stavit ego v tupik, on terjaetsja, i vse stanovitsja dlja nego nesvjaznym, irratsional'nym ili tumannym. V kazhdyj moment on vidit chto-to odno i ne mozhet videt' bol'she, inache on vpadaet v protivorechie. Esli on prinimaet v pole svoego soznanija kakuju-libo istinu ili fakt, to tem samym on avtomaticheski otritsaet vse, chto otlichno ot etoj istiny ili fakta -- mehanizm ego raboty podoben dejstviju zatvora fotoapparata, kotoryj v kazhdyj moment propuskaet odno i tol'ko odno izobrazhenie. Vse, chto ne otnositsja k ego sijuminutnomu videniju -- eto dlja nego kakie-to Tartarary, utopicheskaja strana zabluzhdenija, lzhi ili temnoty. Vse [u nego] ohvacheno neumolimoj sistemoj protivopolozhnostej -- beloe i chernoe, istina i lozh', Bog i Satana. On dvizhetsja kak osel po doroge, kotoryj vidit odin puchok travy za drugim. Odnim slovom, obyknovennyj razum vechno drobit vremja i prostranstvo na melkie kusochki. CHem nizhe spuskaesh'sja po lestnitse soznanija, tem mel'che stanovjatsja eti kusochki. Dlja zhuka, naprimer, ljuboj predmet, peresekajuschij ego dorogu, pojavljaetsja s odnoj storony (naprimer, sprava) iz buduschego, peresekaet ego liniju nastojaschego i ischezaet s drugoj storony (sleva) v proshlom; chelovek, stojaschij nad zhukom, rasstaviv nogi, to est' nahodjaschijsja odnovremenno i sprava, i sleva ot nego - eto prosto chudo, kotoroe nahoditsja vne vsjakoj logiki, poskol'ku esli odna noga cheloveka "istinna", to drugaja -- "lozhna", chto nevozmozhno; znachit, cheloveka ne suschestvuet -- ego suschestvovanie nevozmozhno v predelah logiki zhuka. Dlja nas okoshko zatvora -- nemnogo shire; proshloe i buduschee nahodjatsja uzhe ne v prostranstve sprava i sleva ot nas, a vo vremeni -- vchera i zavtra; my v sravnenii s zhukom vyigryvaem v etom izmerenii -- "vremja". No est' inoe, supramental'noe soznanie, kotoroe mozhet rasshirit' okoshko zatvora esche bol'she, pozvoljaet vyigrat' esche bol'she v etom izmerenii i vstat' nad vchera i nad zavtra. Ono mozhet videt' odnovremenno nastojaschee, proshloe i buduschee, beloe i chernoe, istinu i tak nazyvaemuju "lozh'", dobro i tak nazyvaemoe "zlo", vse "da" i "net", ibo vse protivopolozhnosti -- eto rezul'tat droblenija vremeni na melkie kusochki. My govorim ob oshibke, potomu chto ne vidim poka esche togo dobra, kotoroe ona gotovit ili vidimoj polovinoj kotorogo ona javljaetsja; my govorim o "nepravde", potomu chto u nas ne bylo dostatochno vremeni, chtoby uvidet', kak iz grjazi raspuskaetsja lotos; my govorim o temnote, no nash dnevnoj svet kazhetsja temnym tomu, kto vidit Svet! Nashe zabluzhdenie bylo neobhodimym sputnikom dobra; "net" bylo neotdelimoj polovinoj "da"; beloe, chernoe i vse drugie tsveta radugi byli razlichnymi projavlenijami edinogo sveta, kotoryj postepenno obnaruzhivaet sebja. Net protivorechij, est' tol'ko dopolnenija. Vsja istorija voshozhdenija soznanija -- eto istorija otkrytija puti, perehoda ot linejnogo i protivorechivogo soznanija k soznaniju global'nomu.
I SHri Aurobindo dejstvitel'no govorit o "global'nom soznanii"; govorja o Supramental'nom, on upotrebljaet termin "vysshaja polusfera soznanija", potomu chto vysshaja istina ne iskljuchaet zemlju; ona javljaetsja nepolnoj bez svoej nizshej poloviny. To, chto nahoditsja naverhu, ne iskljuchaet togo, chto nahoditsja vnizu, a dopolnjaet ego; otsutstvie vremeni -- eto ne protivopolozhnost' vremeni, tak zhe, kak ruki, kotorye obnimajut, ne javljajutsja chem-to protivopolozhnym tomu, kogo oni zakljuchajut v ob`jatija. Tajna zakljuchaetsja kak raz v tom, chtoby najti vechnoe v prehodjaschem, beskonechnoe -- v konechnom i vseohvatyvajuschuju polnotu veschej -- v samoj temnoj chastichke. Bez etogo, v dejstvitel'nosti, nevozmozhno ni obnjat' chto-libo, ni byt' obnjatym po-nastojaschemu.
Takoe voshozhdenie soznanija -- eto ne tol'ko pobeda nad vremenem, no i obretenie radosti, ljubvi i bezbrezhnosti bytija. Ne tol'ko vremja i prostranstvo drobjatsja na nizshih evoljutsionnyh urovnjah na melkie kusochki -- tam drobitsja vse. Na protjazhenii vsego nishozhdenija ot Duha do atoma dejstvuet progressirujuschij zakon fragmentatsii [droblenija] -- eto droblenie radosti, droblenie ljubvi i sily, i, konechno, droblenie znanija i videnija. V konechnom schete vse prevraschaetsja v kuchu melkih tropizmov, v tumannuju pyl' somnabulicheskogo soznanija , kotoroe, v svoju ochered', javljaet soboju uzhe poiski Sveta ili, mozhet byt', vospominanie o Radosti. Obschim priznakom etogo nishozhdenija vsegda javljaetsja umen'shenie intensivnosti - intensivnosti bytija, intensivnosti soznanija, intensivnosti sily, intensivnosti radosti v veschah i radosti suschestvovanija. Tochno tak zhe po mere nashego voshozhdenija k vysshemu urovnju eti intensivnosti vozrastajut .
a. Obyknovennyj Razum
To, chto suschestvennym obrazom otlichaet odin plan soznanija ot drugogo -- eto harakternye svojstva sveta ili kachestvo vibratsij. Esli vzjat' za otpravnuju tochku nash sobstvennyj evoljutsionnyj uroven' i rassmatrivat' soznanie v aspekte sveta, po otnosheniju k kotoromu vse ostal'nye aspekty javljajutsja proizvodnymi, to obyknovennyj razum predstavljaetsja vidjaschemu nekoj seroj massoj s mnozhestvom malen'kih temnyh pjaten ili sovershenno temnyh vibratsionnyh uzelkov, kotorye rojatsja, podobno tuche muh, vokrug golov ljudej i predstavljajut soboju ih "tysjachu i odnu" mysl'; oni vraschajutsja, prihodjat i uhodjat bez kontsa, pereletaja ot odnogo cheloveka k drugomu. Inogda sluchajno sverhu nishodit malen'kaja vspyshka sveta, malen'kaja radost', malen'koe plamja ljubvi, tantsujuschee sredi etoj serosti. No eta nejtral'naja osnova [ground of neutrality], kak ee nazyvaet SHri Aurobindo, nastol'ko tolsta i vseob`emljuscha, chto ona pogloschaet vse, zatumanivaet, zasasyvaet vniz v zonu svoego temnogo pritjazhenija; my ne sposobny dolgo vynosit' ni radost', ni bol', my ne mozhem prinjat' mnogo sveta srazu; vse zhalko, spazmatichno i bystro istoschaetsja. I nado vsem etim dominirujut tysjachi uslovnostej.
b. Vysshij Razum
Vysshij Razum chasche vsego vstrechaetsja u filosofov i myslitelej. On bolee prozrachen, bolee svoboden. Obschij fon uzhe ne takoj seryj, s golubovatym ottenkom, i neznachitel'nye nishodjaschie vspyshki sveta pogloschajutsja uzhe ne tak bystro. Krome togo, oni nishodjat chasche i stanovjatsja bogache i intensivnee, Radost' dlitsja dol'she, ljubov' stanovitsja glubzhe i uzhe ne v takoj stepeni podchinjaetsja beschislennym pravilam nizshih urovnej. My nachinaem ponimat', chto takoe ljubov' i radost' sami po sebe, bez kakoj by to ni bylo prichiny. No svet vse esche ostaetsja holodnym i nemnogo zhestkim. Tjazhelaja mental'naja substantsija vse esche pogloschaet svet, iduschij svyshe, peremeshivaet ego so svoim veschestvom i pokryvaet ego tolstym mental'nym sloem, iskazhaja do neuznavaemosti. Etot razum sposoben po-nastojaschemu ponjat' poluchennyj svet lish' posle togo, kak on ego dolzhnym obrazom pererabotal, razbavil, podverg logicheskoj ekzekutsii, razbil na paragrafy, na slova, na idei. Krome togo, vyvody vysshego razuma ishodjat iz edinstvennoj tochki sveta, kotoroj on zavladel, ili iz nebol'shogo chisla takih tochek (vse zakljuchenija vysshego razuma sut' apriornye ustanovki, eto malen'kie kapel'ki intuitsii, kotorye on pospeshno poglotil), i poetomu emu stoit bol'shogo truda iskljuchat' i iskljuchat' v protsesse sobstvennogo razvitija vse, chto protivorechit etim ustanovkam. Da, etot razum mozhet otkryvat'sja vysshim planam i poluchat' vspyshki, no eto, skoree, iskljuchitel'nye momenty, chem normal'noe sostojanie; ego mental'naja substantsija takova, chto ona razrushaet svet. On nachinaet ponimat' chto-libo lish' posle togo, kak on sebe eto ob`jasnil.
v. Ozarennyj Razum
Ozarennyj razum imeet druguju prirodu. Po mere togo kak vysshij razum postepenno obretaet bezmolvie, on poluchaet dostup k etoj sfere: ego substantsija postepenno projasnjaetsja i to, chto prihodilo po odnoj kaple, l'etsja teper' potokom: Osnovoj javljaetsja teper' uzhe ne obschaja nejtral'nost', a chistaja duhovnaja legkost' i radost', na etoj osnove voznikajut osobye tona esteticheskogo soznanija. V etom zakljuchaetsja pervoe fundamental'noe izmenenie. Soznanie napolnjaetsja potokom sveta, chasche vsego zolotogo, v kotoryj vlivajutsja razlichnye tsveta v zavisimosti ot vnutrennego sostojanija; eto luchascheesja vtorzhenie [invasion lumineuse]. Pri etom nahodish'sja v sostojanii "entuziazma" -- v tom smysle, kakoj pridavali etomu slovu greki: postojannoe sostojanie probuzhdennosti, kak budto vse suschestvo nahoditsja nagotove, bdit i vdrug pogruzhaetsja v sovershenno inoj, novyj mir s porazitel'no uskorennym ritmom, novymi tsennostjami, novymi perspektivami i neozhidannymi svjazjami. Dymovaja zavesa mira pripodnimaetsja, vse ob`edinjaetsja v velikoj vibratsii radosti. ZHizn' stanovitsja shire, pravdivee, zhivee. Povsjudu voznikajut svetjaschiesja tochki istiny (i uzhe ne nuzhny slova), i kazhdyj predmet neset v sebe tajnu, imeet osoboe znachenie i svoju, osobuju zhizn'. CHelovek kupaetsja v neopisuemom sostojanii istiny, prichem ne analiziruet proishodjaschee -- ono prosto est'. I eto chudesno. Vse polno sveta, zhizni, ljubvi.
Etot svetjaschijsja potok projavljaet sebja v kazhdom po-raznomu (my vsegda speshim zakljuchit' ego v formu vmesto togo, chtoby pozvolit' emu spokojno propitat' vse suschestvo i sovershat' rabotu po ego projasneniju). Dlja odnih eto vnezapnoe poeticheskoe vdohnovenie, drugie vidjat novye arhitekturnye formy, tret'i prihodjat k novym uravnenijam v nauke, chetvertye nachinajut poklonjat'sja kakomu-to novomu Bogu. Obychno voshozhdenie k etomu novomu soznaniju soprovozhdaetsja spontannym rastsvetom tvorcheskih sil, osobenno na poprische poezii. Zasluzhivaet vnimanija tot fakt, chto sredi uchenikov SHri Aurobindo est' mnogo poetov, pishuschih na samyh raznyh jazykah -- na kitajskom, hindi, anglijskom, -- kak budto poezija i iskusstvo -- eto pervyj prakticheskij rezul'tat ego jogi: Kak v samom sebe, tak i v drugih, ja nabljudal vnezapnyj rastsvet sposobnostej vo vseh vidah dejatel'nosti, rastsvet, kotoryj javljaetsja sledstviem otkrytija soznanija -- tak, naprimer, tot, kto dolgo i bezuspeshno rabotal nad tem, chtoby vyrazit' sebja v poezii, v techenie dnja stanovitsja masterom poeticheskogo jazyka i ritma. Eto vopros nadlezhaschego bezmolvija razuma i nadlezhaschej otkrytosti Slovu, kotoroe stremitsja vyrazit' sebja -- ibo Slovo uzhe gotovo, ono sformirovano v teh vnutrennih planah, gde poluchajut rozhdenie vse vidy iskusstva, no izmenit'sja dolzhen peredajuschij razum -- izmenit'sja i stat' sovershennym kanalom [peredachi], a ne prepjatstviem .
Poezija -- samoe podhodjaschee sredstvo, pozvoljajuschee pochuvstvovat', chto soboju predstavljajut eti vysshie plany soznanija. V ritme poeticheskogo proizvedenija mozhno legko ulovit' vibratsii. Poetomu dalee my budem pribegat' k pomoschi poezii, hotja Sverhsoznatel'noe ne javljaetsja privilegiej odnih tol'ko poetov. V svoej obshirnoj perepiske na temu poezii i v rabote "Poezija buduschego" SHri Aurobindo privodit mnogochislennye primery stihov, ishodjaschih neposredstvenno iz ozarennogo razuma. *)
*) Dalee avtor govorit o tom, chto SHri Aurobindo v kachestve primerov poezii ozarennogo razuma (a takzhe i drugih planov Razuma) privodil stihi anglojazychnyh poetov (naprimer, SHekspira, Vordsvorta, Tompsona), kotorye byli by maloponjatny frantsuzskomu chitatelju, i poetomu Satprem privodit stihi A.Rembo. Poskol'ku perevodchiki ne chuvstvujut sebja vprave podobrat' tochnye analogii stihov, nesuschih adekvatnye vibratsii, nizhe privodjatsja te stihi Rembo i drugih poetov, kotorye ispol'zovany samim Satpremom. V snoskah eti stihi soprovozhdajutsja perevodom na russkij, odnako, ochevidno, chto osnovnym javljaetsja ih zvuchanie, muzyka. V teh sluchajah, kogda daetsja hudozhestvennyj perevod, privoditsja sootvetstvujuschaja ssylka (prim.per.).
-Prekrasnoj illjustratsiej poezii ozarennogo razuma javljajutsja otdel'nye passazhi tvorchestva A.Rembo, osobenno ego "P'janyj korabl'". Ne sleduet privjazyvat'sja k vneshnemu smyslu, nado slushat' to, chto vibriruet za nim; ibo poezija i voobsche vse iskusstva -- eto v konechnom schete ne chto inoe, kak sredstvo ulovit' kroshechnuju, neulovimuju notu, notu, kotoraja vrode by nichego osobennogo soboju ne predstavljaet i v to zhe vremja est' sama zhizn':
Je sais les cieux crevant en eclairs, et les trombes
Et les ressacs et les courants; je sais le soir,
L'Aube exaltee ainsi qu'un peuple de colombes,
Et j'ai vu quelquefois ce que l'homme a cru voir! *)

*) JA znaju rvuscheesja nebo i glubiny,
I smerchi, i burun, ja znaju nochi t'mu,
I zori trepetnee stai golubinoj,
I to, chto ne dano uvidet' nikomu.

"P'janyj korabl'". Per. M.P.Kudinova (Rembo A. Stihotvorenija. M.,1982.S.82).
- Poezija stanovitsja ozarennoj ne v silu kakogo-to osobogo smysla, a blagodarja tomu, chto neset v sebe osobuju notu ozarennogo plana. Tu zhe samuju notu my mozhem najti v zhivopisi Rembrandta, v muzykal'nyh sochinenijah Sezara Franka ili dazhe prosto v slovah druga -- eto prikosnovenie istiny, nahodjaschejsja za poverhnost'ju, mozhet byt', ne ochen' moschnaja, no prjamo k serdtsu iduschaja vibratsija, a stihi, kartina ili sonata -- eto lish' bolee ili menee adekvatnye ee transkriptsii. I chem vyshe my voshodim, tem chische, luchezarnee, shire i moschnee stanovitsja vibratsija. Kogda Rembo govorit sm. risunok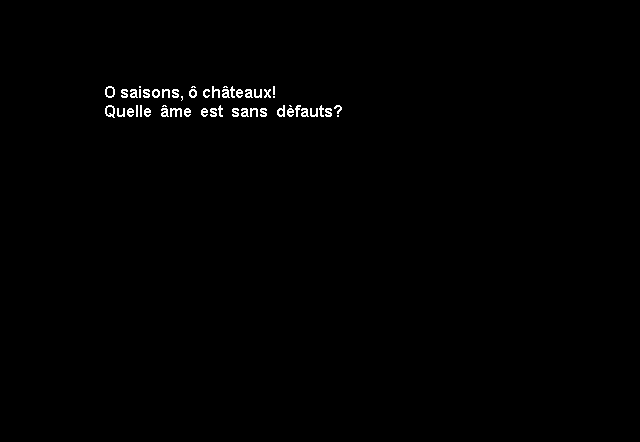 , *)
*) Doslovno:
O vremena, o zamki!
CH'ja dusha bez nedostatka?

V per. N. JAkovlevoj:

O zamki, o smena vremen!
Nedostatkov kto ne lishen?

"Odno leto v adu. Bred II." (Tam zhe. S. 174).
-to vibratsija pochti oschutima -- nastol'ko jarko vyrazheno ee prisutstvie. No, ochevidno, eto ne ozarennaja vibratsija [ne vibratsija ozarennogo razuma]: ona ishodit ne iz istochnika, nahodjaschegosja vyshe golovy, a iz serdtsa -- i eto nikak ne svjazano so smyslom strok: slova -- eto tol'ko oblachenie vibratsii. A vot stroka iz Mallarme idet prjamo iz ozarennogo razuma:

Le transparent glacier des vols qui n'ont pas fui! *)

*) Poletov skovannyh prozrachno-sinij led... "Lebed'". Per. M.A.Voloshina (Frantsuzskie stihi v perevode russkih poetov XIX-XX vv. 2-e izdanie. M.,1974.S.515).

-- To, chto suschestvennym obrazom otlichaet proizvedenija, kotorye ishodjat iz etogo plana, SHri Aurobindo nazyvaet svetjaschimsja techeniem [luminous sweep], vnezapnym potokom sveta. Eta vibratsija ne pohozha ni na kakuju druguju; ona vsegda prinosit kakoj-to tolchok i prodolzhaet esche dolgo vibrirovat', kak kamerton. No ej redko udaetsja sohranjat' svoju chistotu na protjazhenii vsego proizvedenija, ibo ritm proizvedenija povtorjaet ritm soznanija s ego pod`emami i padenijami, tak budet prodolzhat'sja do teh por, poka soznanie ne stabilizirovano s pomosch'ju spetsial'noj distsipliny. V "P'janom korable" zrimo prisutstvuet ozarennyj razum, hotja vidno i prisutstvie vital'nogo, a takzhe obychnogo mental'nogo soznanija; takzhe ochevidno i vmeshatel'stvo sverhsoznatel'nogo.

Narjadu s krasotoj ozarennogo razuma nam otkryvajutsja i ego ogranichenija: poezija ozarennogo razuma l'etsja potokami obrazov i slov otkrovenija (potomu chto na etom plane chasto otkryvajutsja sposobnosti videnija i slyshanija), chut' li ne lavinoj bogatyh, pyshnyh, inogda bessvjaznyh obrazov, kak budto soznanie s trudom vmeschaet v sebja takoj potok sveta i takuju neprivychnuju intensivnost': eto slishkom mnogo dlja nego, eto perepolnjaet ego. Vostorg chasto perehodit v vozbuzhdenie, i esli ostal'nye chasti suschestva nedostatochno podgotovleny i ochischeny, to ljubaja iz nizshih chastej mozhet zavladet' nishodjaschimi siloj i svetom i ispol'zovat' ih dlja sobstvennyh tselej; ochen' mnogie popadajutsja v etu lovushku. Kogda nizshie chasti suschestva, v osobennosti vital'noe, zavladevajut svetjaschimsja potokom, oni delajut ego zhestkim, "dramatizirujut" i muchajut ego -- sila esche prisutstvuet, no javljaetsja uzhe podchinennoj i pri etom stanovitsja zhestkoj, togda kak suschnost' ozarennogo razuma -- eto radost'. Zdes' my mogli by nazvat' imena mnogih poetov i tvorcheskih natur. *)

*) Mozhet byt', esche raz sleduet podcherknut', chto suschestvuet chetkoe razlichie mezhdu chelovekom, kotoryj vremja ot vremeni poluchaet vdohnovenie i ozarenija (i potomu oni nenadezhny), i tem, kto sistematicheski razvil svoe soznanie i mozhet vojti v kontakt s ljubym iz vybrannyh im planov soznanija, ostavat'sja tam stol'ko, skol'ko on pozhelaet, i poluchat' bez vsjakih iskazhenij vdohnovenie i ozarenija, sootvetstvujuschie etomu planu. V etom i zakljuchaetsja rabota integral'noj jogi.

-Krome togo, substantsija ozarennogo razuma na samom dele ne javljaetsja prozrachnoj, ona lish' poluprozrachna; svet ee rassejan -- kak by chuvstvuesh', chto istina nahoditsja povsjudu, no ne mozhesh' konkretno oschutit' ee -- otsjuda chastye bessvjaznost' i otklonenija. Eto tol'ko nachalo novogo rozhdenija. Prezhde chem idti vyshe, neobhodimo bolee sovershennoe ochischenie i prezhde vsego -- bol'shij pokoj, estestvennoe ravnovesie i bezmolvie. CHem vyshe my rastem v soznanii, tem bolee neobhodimym javljaetsja nezyblemoe ravnovesie.

g. Intuitivnyj Razum

Intuitivnyj Razum otlichaetsja ot ozarennogo svoej jasnoj prozrachnost'ju. On podvizhen, kak rtut', on legko prygaet po skalam, ne otjagoschennyj obuv'ju, bosoj, ne kasajas' poverhnosti zemli. V otlichie ot vysshego razuma ego ne stesnjajut mental'nye ortopedicheskie podporki, prikovyvajuschie nas k zemnomu (kak budto znanie zavisit ot ob`ema nashih tjazhelovesnyh razmyshlenij!). Znanie -- eto iskra, rozhdajuschajasja, vspyhivajuschaja iz bezmolvija. Ono nahoditsja prjamo zdes', ne vyshe i ne glubzhe, a prjamo pered nashimi glazami, ozhidaja, kogda my stanem nemnogo chische, prosvetlennej -- eto ne stol'ko vopros nashego rosta, skol'ko delo ustranenija s puti mnozhestva prepjatstvij. Vesnoj risovye polja Indii, spokojnye, zelenye, polnye nezhnogo aromata, prostirajutsja vdal' naskol'ko hvataet vzgljada pod tjazhelym, mrachnym nebom; i vdrug s edinym krikom vzletajut tysjachi popugaev. Odnako my ne uspeli nichego zametit'. Eto proizoshlo v techenie sekundy, kak vspyshka molnii, -- i soznanie mozhet projasnjat'sja s takoj zhe neverojatnoj bystrotoj! Odna detal', odin zvuk, odna kaplja sveta -- i pojavljaetsja tselyj mir vo vsem svoem velikolepii i polnote -- tysjachi stremitel'nyh ptits v edinoj vspyshke. Intuitsija vosproizvodit v nashem masshtabe pervozdannuju misteriju velikogo Vzgljada, groznogo pristal'nogo vzgljada, kotoryj, s odnoj storony, vidit vse i znaet vse, a s drugoj, naslazhdaetsja posledovatel'nym videniem, videniem vo vremeni, kaplja po kaple, videniem s mnozhestva tochek zrenija togo, chto On ohvatil polnost'ju v krupitse vechnosti.

Vremja est' tol'ko porozhden'e vechnogo mgnovenija. *)

(An eternal instant is the cause of the years.)

*) Doslovno: "Vechnoe mgnovenie -- prichina [mnogih] let" (prim.per.).

-- Vmeste s intuitsiej prihodit sovershenno osobaja radost', kotoraja javno otlichaetsja ot radosti ozarennogo razuma. Net uzhe oschuschenija potoka, prihodjaschego izvne, a est' nekoe opoznanie, uznavanie, kak budto vsegda v nas suschestvovali dvoe -- brat sveta, zhivuschij v svete, i brat t'my (to est' my sami), zhivuschij vnizu, neukljuzhe, oschup'ju karabkajuschijsja v temnote, podrazhajuschij znaniju brata sveta i ego velikomu puteshestviju, no podrazhajuschij kak-to zhalko, ubogo, grubo. I zatem vdrug proishodit slijanie -- my stanovimsja ediny v oblasti sveta. Nakonets-to net nikakih razlichij. Radost'.

Kogda my stanem edinymi vo vseh tochkah, nastupit bozhestvennaja zhizn'.

V etoj tochke kontakta i slijanija prihodit znanie, kotoroe mozhet byt' vyrazheno v toj ili inoj forme (v zavisimosti ot vida dejatel'nosti v dannyj moment vremeni), no kotoroe vsegda po suti svoej javljaetsja projavleniem tozhdestvennosti, vstrechej -- my znaem potomu, chto my uznaem [reconnait]. SHri Aurobindo govoril, chto intuitsija -- eto vospominanie Istiny . Kogda prihodit vspyshka intuitsii, to jasno vidno, chto znanie -- eto ne otkrytie chego-to neizvestnogo -- otkryvajut tol'ko sebja, bol'she nechego otkryvat', -- eto postepennoe paspoznavanie vo vremeni togo mgnovenija Sveta, kogda my videli vse. Est' li kto-nibud', kto ne videl hotja by raz? U kogo v zhizni ne bylo etogo Vospominanija? Kakimi by ni byli nashi very (vplot' do otsutstvija vsjakoj very), nashi sposobnosti ili nesposobnosti, nashi dostizhenija, vysokie ili net, v zhizni vsegda est' moment, kotoryj javljaetsja nashim momentom. Nekotorye zhizni dljatsja vsego mgnovenie, a vse ostal'noe -- eto zabyt'e.

JAzyk intuitsii skontsentrirovan v szhatyh formulirovkah bez edinogo lishnego slova v protivopolozhnost' pyshnomu jazyku ozarennogo razuma (kotoryj tem ne menee imenno blagodarja svoemu bogatstvu peredaet i "svetjaschijsja" ritm, i istinu, mozhet byt', ne stol' chetko, no zato delaet eto kak-to teplee, blizhe). Kogda Plotin summroval smysl vseh chelovecheskih usilij v edinoj fraze -- "Polet Edinogo k Edinomu", -- on pol'zovalsja v vysshej stepeni intuitivnym jazykom, tem zhe jazykom govorjat i Upanishady. No takoe svojstvo samovyrazhenija obnaruzhivaet i predely intuitsii: kak by ni byli nasyscheny vysokim zhiznennym smyslom nashi ozarenija, izrechenija, oni ne mogut ohvatit' vsej istiny -- nuzhna bolee polnaja, bolee vseob`emljuschaja teplota -- ta, kotoroj obladaet i ozarennyj razum, -- no vnutri bolee vysokoj prozrachnosti. Ibo Intuitsija ... vidit veschi vspyshkami, tochka za tochkoj, a ne kak [edinoe] tseloe . Otkryvajuscheesja v svete vspyshki porazitel'no, neoproverzhimo, no eto tol'ko prostranstvo istiny . Krome togo, intuitsiej zavladevaet razum, kotoryj, kak zamechaet SHri Aurobindo, odnovremenno preumen'shaet i preuvelichivaet ee znachenie [it makes at once too little and too much of it] . Preuvelichivaet potomu, chto on nezakonno obobschaet intuitsiju i stremitsja rasprostranit' ee otkrytie na vse prostranstvo; preumen'shaet potomu, chto vmesto togo, chtoby pozvolit' vspyshke intuitsii spokojno ozarit' i projasnit' nashu substantsiju, razum nemedlenno zavladevaet eju, pokryvaet ee sloem mysli (ili, mozhet byt', rastvorjaet ee v zhivopisi, poezii, matematike ili religii) i uzhe ne v sostojanii ponjat' ee sveta, krome kak cherez intellektual'nyj, hudozhestvennyj ili religioznyj pokrov, v kotoryj on ee oblachil. Obychnomu razumu chrezvychajno trudno ponjat', chto otkrovenie mozhet byt' moschnym, dazhe perepolnjajuschim, dazhe togda, kogda "smysl" ego nam neponjaten, i chto osobenno moschnym ono byvaet tol'ko togda, kogda ego ne nizvodjat na neskol'ko urovnej nizhe, razbavljaja i drobja dlja togo, chtoby "ponjat'". Esli by my mogli sohranit' spokojstvie vo vremja etoj vibrirujuschej vspyshki, byt' kak by podveshennymi v ee svete, a ne hvatat'sja srazu zhe za nee, chtoby razdrobit' na intellektual'nye kuski, to cherez nekotoroe vremja my by zametili, chto vse nashe suschestvo podnjalos' na novyj uroven' i chto my obladaem novym videniem, a ne zhalkoj bezzhiznennoj formuloj. Vsjakie ob`jasnenija, raz`jasnenija i t.p. -- prichina togo, chto bOl'shaja chast' preobrazujuschej sily bystro ischezaet.

Esli vmesto togo, chtoby pospeshno hvatat'sja za pero ili za kist' ili pogruzit'sja v potok slov, chtoby osvobodit'sja ot izbytka poluchennogo sveta, ischuschij budet stremit'sja sohranit' bezmolvie i prozrachnost', esli on budet terpeliv, to on uvidit, chto chislo vspyshek postepenno uvelichivaetsja, promezhutki mezhdu nimi stanovjatsja vse men'she (oni kak by uchaschajutsja) i chto v nem medlenno formiruetsja inoe soznanie, kotoroe javljaetsja odnovremenno i zaversheniem, i istochnikom Ozarennogo i Intuitivnogo Razuma, a takzhe vseh chelovecheskih mental'nyh form. Eto Global'nyj Razum.

d. Global'nyj Razum

Global'nyj Razum -- eto vershina, do kotoroj chelovecheskoe soznanie podnimaetsja ochen' redko. Eto kosmicheskoe soznanie, no bez poteri individual'nosti. Vmesto togo, chtoby vse otrinut' i vosparit' vysoko v nebesnuju neob`jatnost', ischuschij terpelivo pokorjaet kazhduju stupen' svoego suschestva tak, chto osnovanie suschestva ostaetsja svjazannym s ego vershinoj i v etoj svjazi net nikakih razryvov. Global'nyj Razum -- eto mir bogov, istochnik vdohnovenija velikih osnovatelej religij. Imenno zdes' poluchili svoe rozhdenie vse izvestnye nam religii; vse religii ishodjat iz opyta [perezhivanija] Global'nogo Razuma v kakom-to odnom iz ego beschislennyh aspektov. Ibo religija ili otkrovenie, duhovnoe perezhivanie otnosjatsja k opredelennomu planu; oni porozhdajutsja ne gde-to i ne kak-to; te, kto osuschestvljaet to, chto otkrylos' im v duhovnom perezhivanii, poluchajut eto otkrovenie ne iz niotkuda: ih istochnik -- Global'nyj Razum. On zhe javljaetsja istochnikom velichajshih proizvedenij iskusstva. No my dolzhny pomnit', chto eto vse esche mental'nyj plan, hotja i ego vershina.

Kogda soznanie dostigaet etogo plana, to ono vidit uzhe ne "tochku za tochkoj", ono sozertsaet v bezmolvii, bol'shimi ob`emami [calmly, in great masses] . Eto uzhe ne rassejannyj svet ozarennogo razuma i ne otdel'nye vspyshki razuma intuitivnogo, no, govorja prekrasnym jazykom Ved, "okean nepreryvnyh molnij". Soznanie uzhe ne ogranicheno kratkost'ju nastojaschego momenta ili uzkim diapazonom svoego polja videnija, ono raskryto i ohvatyvaet edinym vzgljadom obshirnye protjazhennosti prostranstva i vremeni . Suschestvennoj chertoj, otlichajuschej Global'nyj Razum ot ostal'nyh planov soznanija, javljaetsja rovnost' sveta, pochti polnaja ego odnorodnost'. V osobo vospriimchivom intuitivnom razume, naprimer, mozhno videt' golubovatyj fon i vnezapno pojavljajuschiesja strui sveta, vspyshki intuitsii ili bystro nesuschiesja svetjaschiesja izverzhenija, a inogda i dazhe moschnye potoki iz sfery Global'nogo Razuma, no vse eto -- izmenchivaja igra sveta, net nichego postojannogo. Eto obychnoe sostojanie velichajshih poetov, kotoryh my znaem; oni dostigajut opredelennogo urovnja ili ritma, osoboj poeticheskoj svetonosnosti, a vremja ot vremeni prihodjat v soprikosnovenie s temi redkimi oslepitel'nymi strofami (ili muzykal'nymi frazami), kotorye potom povtorjajut mnogie pokolenija, povtorjajut, kak "Sezam, otkrojsja". Ozarennyj razum obychno javljaetsja osnovoj (osnovoj uzhe ochen' vysokoj), a Global'nyj Razum -- eto TSarstvo Bozh'e, dostup k kotoromu predostavljaetsja v minuty milosti.

No dlja polnogo i postojannogo global'nogo soznanija, podobnogo tomu, kotoroe realizovali, naprimer, Rishi Ved, uzhe net nikakih nerovnostej. Soznanie stanovitsja massoj postojannogo sveta. Rezul'tatom etogo javljaetsja nerushimoe vseobschee videnie; poznajutsja vseobschaja radost', vseobschaja krasota, vselenskaja ljubov'; ved' vse protivorechija nizshih planov -- eto sledstvie nedostatochnosti sveta, ili, tak skazat', "ogranichennosti" sveta: on osveschaet lish' ogranichennoe pole; v etom zhe ravnomernom svete [vse] protivorechija, kotorye pohozhi na malen'kie temnye promezhutki mezhdu dvumja vspyshkami ili na temnye granitsy, kotorye ocherchivajut nashe pole sveta, rastvorjajutsja v odnorodnoj masse vidimogo sveta. A poskol'ku svet nahoditsja povsjudu, garmonija i radost' tozhe neizmenno prisutstvujut povsjudu, ibo protivopolozhnosti oschuschajutsja uzhe ne kak otritsanija ili tenevye promezhutki mezhdu dvumja vspyshkami soznanija, no kak elementy, kazhdyj iz kotoryh obladaet svoej intensivnost'ju vnutri nepreryvnoj kosmicheskoj Garmonii. I eto proishodit ne potomu, chto global'noe soznanie ne sposobno videt' to, chto my nazyvaem urodstvom, zlom ili stradaniem, -- prosto vse svjazano mezhdu soboj vo vseob`emljuschej vselenskoj igre, gde kazhdyj ob`ekt imeet svoe mesto i naznachenie. Eto ob`edinjajuschee, a ne raz`edinjajuschee soznanie. Stepen' edinenija - eto tochnaja mera sovershenstva global'nogo razuma. Bolee togo, vmeste s videniem etogo edinstva -- videniem Bozhestvennym (Bozhestvennoe uzhe ne javljaetsja chem-to predpolagaemym ili predstavljaemym -- my vidim ego, kasaemsja ego, stanovimsja im samim, prichem estestvennym obrazom, kak nashe soznanie kasaetsja sveta) -- global'noe suschestvo vosprinimaet povsjudu odin i tot zhe svet, vo vseh suschestvah i predmetah tak zhe, kak vosprinimaet ego v svoem "ja". Net uzhe ni razdeljajuschih pustot, ni probelov neizvestnosti; vse kupaetsja v edinoj substantsii. CHelovek [realizovavshij global'noe soznanie] chuvstvuet vseobschuju ljubov', vseobschee ponimanie, vseobschee sostradanie ko vsem drugim "ja" -- tem, kto tozhe dvizhetsja k svoej bozhestvennosti ili, skoree, postepenno stanovitsja svetom, kotorym vse oni uzhe javljajutsja.

Takim obrazom, global'nogo soznanija my mozhem dostich' mnogimi razlichnymi putjami: religioznoj samootdachej, poeticheskimi, intellektual'nymi, hudozhestvennymi ili geroicheskimi usilijami -- vsem, chto pomogaet cheloveku preodolet' sebja. Osoboe mesto otvodil SHri Aurobindo iskusstvu, schitaja ego odnim iz glavnyh sredstv duhovnogo progressa. K sozhaleniju, tvorcheskie i hudozhestvenno odarennye natury obychno nadeleny sil'nym ego, eto pregrazhdaet im put' i javljaetsja osnovnym prepjatstviem. Religioznyj chelovek, kotoryj rabotaet nad tem, chtoby rastvorit' na puti k sovershenstvu svoe ego, mozhet prodvinut'sja dal'she, no emu redko udaetsja dostich' universal'nosti svoimi individual'nymi usilijami. On, skoree, vyprygivaet za predely individual'nosti, ottalkivaja ot sebja lestnitsu i ne zabotjas' o tom, chtoby razvit' vse promezhutochnye stupeni svoego soznanija; kogda zhe on dostigaet "vershiny": to u nego uzhe libo net lestnitsy dlja togo, chtoby vernut'sja vniz, libo on ne zhelaet vozvraschat'sja, libo net individual'nogo "ja", kotoroe moglo by vyrazit' to, chto on vidit; ili zhe eto ego staroe individual'noe "ja" izo vseh sil pytaetsja vyrazit' ego novoe soznanie, esli u nego voobsche est' potrebnost' chto-to vyrazhat'. Rishi Ved, kotorye dajut nam, navernoe, edinstvennyj primer sistematicheskogo i nepreryvnogo duhovnogo voshozhdenija ot plana k planu, javljajutsja odnimi iz velichajshih poetov, kotoryh kogda-libo znala Zemlja. SHri Aurobindo pokazal eto v svoej rabote "Tajna Ved". Slovo kavi oznachaet odnovremenno "vidjaschij Istinu" i "poet". CHelovek byl poetom potomu, chto on byl prorokom. Eto ochevidnyj, no sovsem zabytyj fakt. Poetomu, navernoe, imeet smysl skazat' neskol'ko slov ob iskusstve kak o sredstve voshozhdenija soznanija i osobenno v poezii global'nogo razuma.

Poezija mantr

Plany soznanija harakterizujutsja ne tol'ko razlichnoj intensivnost'ju svetjaschihsja vibratsij, no i razlichnymi zvukovymi vibratsijami ili ritmami, kotorye mozhno uslyshat', imeja "uho ushej", o kotorom govoritsja v Vedah. Zvuki ili obrazy, svety ili sily, ili suschestva -- eto razlichnye aspekty odnogo i togo zhe Suschestvovanija, kotoroe projavljaet sebja po-raznomu i s razlichnoj intensivnost'ju v zavisimosti ot plana. CHem nizhe nishodish' po lestnitse soznanija, tem bolee fragmentarnymi stanovjatsja zvukovye vibratsii, a vsled za nimi i svet, i suschestva, i sily. Na vital'nom plane, naprimer, my mozhem slyshat' nestrojnye i drebezzhaschie vibratsii ZHizni, podobnye nekotorym muzykal'nym proizvedenijam, ishodjaschim iz etogo plana, ili nekotorym vidam vital'noj zhivopisi, ili poezii, v kotoryh otrazhaetsja izlomannyj i mnogokrasochnyj ritm vital'nogo. CHem vyshe podnimaesh'sja, tem bolee garmonichnymi, soglasovannymi i obtekaemymi stanovjatsja vibratsii, chto-to pohozhee slyshitsja inogda v strunnyh kvartetah Bethovena, kotorye, kazhetsja, unosjat nas edinym duhom vvys', k sverkajuschim vershinam chistogo sveta. Energija muzyki peredaetsja uzhe kolichestvom ispol'zuemyh sredstv, ne jarko okrashennymi vspyshkami, no vysokim vnutrennim naprjazheniem. Sama chastota vibratsii prevraschaet radugu tsvetov v chistuju beliznu, v edinuju notu, takuju vysokuju, chto ona kazhetsja nedvizhimoj, kak by zamershej v vechnosti -- v odnu-edinstvennuju zvuko-tsveto-silu, kotoraja, mozhet byt', kak raz i est' svjaschennyj slog indusov OM -- Slovo, sokrytoe v plameni gornem . "V nachale bylo Slovo", -- glasit Pisanie.

V Indii suschestvuet ezotericheskoe znanie, osnovannoe na izuchenii zvukov i razlichija vibratsij v zavisimosti ot plana soznanija. Kogda my proiznosim, naprimer, zvuk OM, to my chetko oschuschaem ego vibratsii vokrug golovnyh tsentrov, togda kak zvuk RAM vozdejstvuet na pupochnyj tsentr. A poskol'ku kazhdyj iz nashih tsentrov soznanija neposredstvenno svjazan s kakim-nibud' planov soznanija, to povtoreniem (dzhapa) opredelennyh zvukov my mozhem vojti v kontakt s sootvetstvujuschim planom. *)

*) Na diagramme planov soznanija (sm. risunok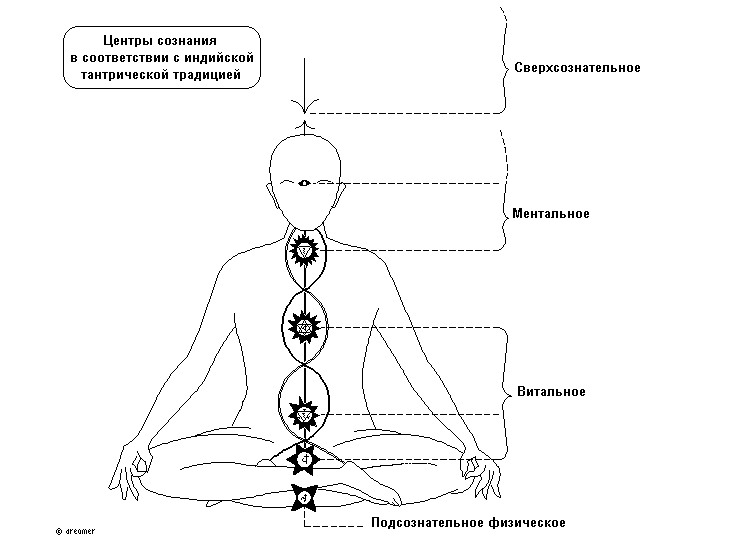 ) mozhno zametit', chto kazhdyj tsentr soderzhit sanskritskuju bukvu: Lam, Vam, Ram, JAm, Ham, Om -- v voshodjaschem porjadke. Eti suschnostnye zvuki predstavljajut soboj osobye vibratsii, kotorye upravljajut silami kazhdogo iz etih planov (sm. knigu A.Avalona "Zmeinaja sila" -- Avalon A. The Serpent Power. Madras, 1913).
-Na etom osnovana tselaja duhovnaja distsiplina, kotoruju nazyvajut tantricheskoj, potomu chto svoe nachalo ona beret v svjaschennyh tekstah, nazyvaemyh tantra. Osnovnye, ili suschnostnye zvuki, kotorye obladajut siloj ustanovit' takoj kontakt, nazyvajutsja mantrami. Mantry -- eto vsegda tajna, oni peredajutsja ucheniku ego Guru *)
*) Mozhno vychitat' mantry iz knigi i povtorjat' ih do beskonechnosti, no esli oni ne byli dany Uchitelem, ili Guru, to oni ne budut obladat' energiej ili "aktivnoj siloj".
-i mogut byt' samogo raznogo roda (vnutri kazhdogo plana soznanija est' mnogo urovnej) i sluzhit' samym raznoobraznym tseljam. Kombinatsiej opredelennyh zvukov mozhno vojti v kontakt na nizshih urovnjah soznanija, obychno na vital'nom urovne, s sootvetstvujuschimi silami i dobit'sja mnogih neobyknovennyh effektov: est' mantry, kotorye mogut ubit' (v techenie pjati minut, prichem umiranie soprovozhdaetsja uzhasnoj rvotoj), mantry, kotorye mogut lechit', mantry, sposobnye vyzvat' pozhar, zaschitit' ili okoldovat'. V osnove etogo vida magii, ili himii vibratsij, lezhit soznatel'noe ovladevanie nizshimi vibratsijami. No suschestvuet i vysshaja magija, v osnove kotoroj lezhit ovladevanie vibratsijami na vysshih planah soznanija. Eto -- poezija, muzyka, duhovnye mantry Upanishad i Ved, mantry, dannye Guru svoemu ucheniku, chtoby pomoch' emu soznatel'no vojti v neposredstvennyj kontakt s tem ili inym planom soznanija, siloj ili bozhestvennym suschestvom. V etom sluchae zvuk v samom sebe soderzhit energiju, priobretaemuju opytom i realizatsiej, -- eto zvuk, kotoryj delaet cheloveka zrjachim. Podobnym zhe obrazom poezija i muzyka -- kotorye est' ne chto inoe, kak neosoznannyj protsess ovladevanija etimi tajnymi vibratsijami -- mogut stat' moguschestvennymi sredstvami otkrytija soznanija. Esli by my mogli soznatel'no sochinjat' stihi ili muzyku putem soznatel'nogo obraschenija s etimi vysshimi vibratsijami, to eto byli by velikie proizvedenija, nadelennye priblizhajuschej k sootvetstvujuschim planam, posvjaschajuschej siloj. Vmesto poezii, kotoraja javljaetsja igroj intellekta i bajaderoj uma , po vyrazheniju SHri Aurobindo, my sozdavali by mantricheskuju muzyku i poeziju tak, chtoby bogi shodili v nashu zhizn' . Ibo podlinnaja poezija -- eto dejstvie, ona buravit soznanie -- ved' my tak sil'no zamurovany, zabarrikadirovany! -- i cherez otverstija v nas vhodit Real'noe. Takova mantra Real'nogo , posvjaschenie. Imenno etogo dobivalis' rishi Ved i proroki Upanishad svoimi mantrami, obladavshimi siloj soobschit' ozarenie tomu, kto gotov, *)
*) K sozhaleniju, eti teksty prihodjat k nam v perevode -- t.e. pri etom terjaetsja magija zvuka. Odnako primechatel'no to, chto kogda slyshish' original'nyj sanskritskij tekst, kotoryj poet chelovek, obladajuschij znaniem, mozhno poluchit' ozarenie ne ponimaja ni slova iz togo, chto bylo skazano.
-i imenno eto izlozhil v svoej rabote "Poezija buduschego" SHri Aurobindo i osuschestvil v "Savitri".
Mantry, velikaja poezija, velikaja muzyka ili svjaschennoe Slovo -- vse eto prihodit iz Global'nogo Razuma. On -- istochnik vsjakoj tvorcheskoj ili duhovnoj dejatel'nosti (ih nevozmozhno razdelit': kategoricheskie podrazdelenija intellekta rastvorjajutsja v etoj prozrachnosti, gde vse svjaschenno, duhovnoe i mirskoe). Teper' my mozhem popytat'sja opisat' osobuju vibratsiju ili ritm, prisuschie Global'nomu Razumu. Prezhde vsego kazhdomu, kto obladaet sposobnost'ju vhodit' bolee ili menee soznatel'no v kontakt s vysshimi planami -- poetam, pisateljam ili hudozhnikam -- horosho izvestno, chto za predelami opredelennogo urovnja soznanija perestaesh' videt' idei, kotorye pytaesh'sja peredat', -- nachinaesh' slyshat'. Vibratsii, volny ili ritmy obrushivajutsja bukval'no potokom i zavladevajut ischuschim, a zatem, po mere svoego nishozhdenija oblachajutsja v slova i idei, v muzyku ili v tsveta. No slovo ili ideja, muzyka ili tsvet -- eto sledstvie, vtorichnyj rezul'tat; oni lish' pridajut formu pervichnoj, moschno-povelitel'noj vibratsii. I esli poet, istinnyj poet, ispravljaet, pravit vnov' i vnov' svoe proizvedenie, to eto ne dlja togo, chtoby usovershenstvovat' formu, kak govoritsja, ili najti luchshee vyrazhenie, no dlja togo, chtoby luchshe pojmat' etu zapredel'nuju vibratsiju, i esli istinnaja vibratsija otsutstvuet, to vsja magija rushitsja, kak i v tom sluchae, kogda zhrets-indus nepravil'no proiznosit mantru zhertvoprinoshenija. Kogda soznanie ischuschego jasno, prozrachno, on mozhet otchetlivo slyshat' opredelennyj zvuk, kak by vidimyj zvuk, zvuk-obraz ili zvuk-ideju, kotoryj svjazuet nerazdelimoj svjaz'ju slyshanie s videniem i mysl'ju vnutri odnoj i toj zhe luchaschejsja suschnosti. Vse zakljucheno tam, vnutri edinoj vibratsii. Na vseh promezhutochnyh planah (Vysshij Razum, Ozarennyj ili Intuitivnyj Razum) vibratsii, kak pravilo, otryvisty, razbity -- eto vspyshki, impul'sy, vzryvy -- togda kak v Global'nom Razume oni shiroki, nepreryvny i svetjatsja svoim svetom, kak velikie passazhi Bethovena. Oni ne imejut ni nachala, ni kontsa, kazhetsja, chto oni rozhdajutsja iz Beskonechnogo i v Beskonechnosti rastvorjajutsja ; oni ne nachinajutsja nigde, oni prihodjat v soznanie s nekim sijaniem vechnosti, kotoroe vibriruet, predvoshischaja vibratsiju, i prodolzhajut vibrirovat' dolgo posle ee uhoda, kak otgolosok puteshestvija inogo, zapredel'nogo etomu:
Sunt lacrimae rerum et mentem mortalia tamgunt *)
*) Plachut o veschah, i brennoe kasaetsja mysli ("Eneida". I,462).
-- Eta stroka iz Virgilija, kotoruju SHri Aurobindo privodil kak primer vydajuschegosja vlohnovenija, ishodjaschego iz sfery Global'nogo Razuma, javljaetsja takovoj ne v silu znachenija slov, no blagodarja ritmu, kotoryj predshestvuet slovam i sleduet za nimi, kak esli by oni byli vyrezany na podmostkah vechnosti ili, skoree, samoj Vechnost'ju. Tochno tak zhe sledujuschaja stroka iz Leopardi objazana svoim velichiem ne smyslu, no chemu-to gorazdo bolee tonkomu (chem smysl), chto trepeschet po tu ego storonu:
Insano indegno mistero delle cose. *)
*) Doslovno: Bezumnaja, besstydnaja misterija sobytij i veschej.
-Ili voz'mem etu stroku iz Vordsvorta:
Voyaging through strange seas of thought, alone *)
*) Doslovno: Plyvja v odinochku po neobyknovennomu okeanu mysli.
-A SHri Aurobindo tsitiruet takzhe Rembo: (sm. risunok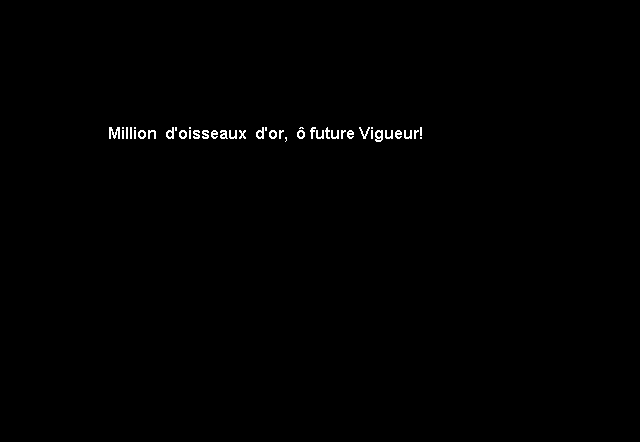 ). *)
*) Doslovno: Million zolotyh ptits, o buduschaja Mosch'! ("P'janyj korabl'").
-- Poezii vozvraschaetsja ee podlinnaja rol': ne ublazhat' sluh, no delat' mir bolee real'nym, vlivaja v nego Real'nost'.
Esli v nas sil'no religioznoe nachalo, to, vozmozhno, my uvidim bogov, naseljajuschih etot mir. Suschestva, sily, zvuki, sveta i ritmy -- vse eto ne chto inoe, kak mnozhestvo form, kazhdaja iz kotoryh podlinna, tak kak prinadlezhit odnoj i toj zhe neopredelimoj, no ne nepoznavaemoj Suschnosti, kotoruju my nazyvaem Bogom. I my nazyvaem Ee Bogom i stroim hramy, dogmaty i poemy, pytajas' pojmat' odnu malen'kuju pul'satsiju, kotoraja napolnjaet nas solnechnym svetom, no pri etom svobodna, kak veter na pokrytyh penoj morskih beregah. Mozhet byt', my takzhe vojdem v mir muzyki, kotoryj, javljajas' osobym projavleniem vse toj zhe velikoj nevyrazimoj Vibratsii, v suschnosti ne otlichaetsja ot ostal'nyh. Esli my hot' raz, vsego odin raz, pust' dazhe v techenie vsego neskol'kih minut za vsju nashu zhizn' uslyshim etu Muzyku, etu Radost', kotoraja poet naverhu, to nam otkroetsja to, chto slyshali Bethoven i Bah; my budem znat', chto Bog suschestvuet, potomu chto my uslyshim Boga. I my ne budem proiznosit' velikie slova; prosto my budem znat', chto to suschestvuet i chto iskupleny vse stradanija mira.
U vysshih granits Global'nogo Razuma -- lish' velikie volny perelivajuschegosja mnogotsvetnogo sveta, -- govorit Mat', -- igra duhovnyh sil, kotorye pozzhe voploschajutsja -- prichem inogda namnogo pozzhe -- v novye idei, sotsial'nye izmenenija ili zemnye sobytija, no eto uzhe posle togo, kak oni peresekut odin za drugim vse plasty soznanija, preterpjat znachitel'nye iskazhenija i poterjajut bOl'shuju chast' svoego sveta. I vse zhe est' na Zemle mudretsy -- ih nemnogo sovsem -- kotorye, prebyvaja v vechnom bezmolvii, mogut upravljat' etimi silami, kombinirovat' ih tak, kak inye sochetajut zvuki pri napisanii stihov, i izlivat' ih na Zemlju. Mozhet byt', oni-to i javljajutsja istinnymi poetami. Ih suschestvovanie -- eto zhivaja mantra, vlekuschaja Real'noe voplotit'sja v zemnom.
Etim zakanchivaetsja opisanie voshozhdenija [po puti soznanija], kotoroe bylo predprinjato SHri Aurobindo v odinochnoj kamere aliporskoj tjur'my. My priveli lish' blednoe chelovecheskoe otobrazhenie etih vysshih sfer, nichego ne skazav ob ih suschnosti, o tom, kakim obrazom suschestvujut eti miry sami po sebe, vo vsem svoem velikolepii, nezavisimo ot nashih nesovershennyh vyrazhenij. Nado uslyshat' samim, nado uvidet'!
Tihie nebesa nevechernego Sveta,
Prosvetlennye miry bezmolvija tsveta fialki,
Okeany i reki radosti Gospodnej
I bespechal'nye strany pod purpurnymi solntsami.

(Calm heavens of impershable Light,
Illumined continents of violet peace,
Oceans and rivers of the mirth of God
And griefless countries undeer purple suns.)
5 maja 1909 g., posle goda zakljuchenija, SHri Aurobindo byl opravdan i osvobozhden. Svoej zhizn'ju on byl objazan dvum nepredvidennym sobytijam. Odin iz zakljuchennyh predal ego: on dones, chto SHri Aurobindo byl liderom podpol'nogo dvizhenija; ego pokazanija v sude oznachali by smertnyj prigovor dlja SHri Aurobindo, no donoschik byl tainstvennym obrazom zastrelen v svoej kamere. Zatem prishel den' suda; kogda vse sideli, ozhidaja vynesenija smertnogo prigovora, advokat SHri Aurobindo byl vnezapno ohvachen ozareniem, kotoroe rasprostranilos' na ves' zal i potrjaslo prisjazhnyh: "Esche dolgo posle ego smerti i uhoda slova ego budut otzyvat'sja vnov' i vnov' ne tol'ko v Indii, no i v samoj dal'nej dali ot nee. Poetomu ja utverzhdaju, chto chelovek, takoj, kak etot, stoit ne tol'ko pered bar'erom etogo suda -- on stoit pered Vysshim Sudom Istorii". SHri Aurobindo bylo tridtsat' sem' let. Ego brat Barin, sidevshij na sude v odnoj s nim kletke, byl prigovoren k povesheniju. *)

*) Etot prigovor byl pozdnee zamenen pozhiznennoj vysylkoj na Andamanskie ostrova.

-- No SHri Aurobindo po-prezhnemu slyshal golos: Pomni: nikogda ne bojsja, otbros' vse kolebanija. Pomni, chto eto JA delaju eto, a ne ty ili kto drugoj. Poetomu, kak by ni sguschalis' tuchi, kakie by opasnosti i stradanija, kakie by trudnosti ili to, chto kazhetsja nevozmozhnym [whatever impossibilities], ni vstretilis' tebe, net nichego nevozmozhnogo, nichego trudnogo.

Ibo eto JA, kto vse sovershaet

.
---
V nachalo etogo fajla
Internet-Server po Integral'noj Joge e-mail: Leonid Ovanesbekov <olg@www.ivvs.ru>
1998 fev 26 cht